Administrator
Staff member
It's hard to keep track of the various temperatures involved in discussions around 9/11. So I made the above chart. It's a work in progress, so corrections and suggestions are much appreciated.
Sources:
Melting points of Lead, Aluminum, and Steel:
https://www.engineeringtoolbox.com/melting-temperature-metals-d_860.html
"Soft" temperature of steel:
https://en.wikipedia.org/wiki/Forging_temperature
Forging temperature

is the temperature at which a

metal

becomes substantially more soft, but is lower than the melting temperature.

[1]

Bringing a metal to its forging temperature allows the metal's shape to be changed by applying a relatively small force, without creating cracks. The forging temperature of an

alloy

will lie between the temperatures of its component metals. For most metals, forging temperature will be approximately 70% of the melting temperature in

kelvins

.
NatGeo Pit Fire:
National Geographic Science & Conspiracy Part 3
(5:56)
Molten steel image:
https://commons.wikimedia.org/wiki/File:Scunthorpe_Molten_Steel.jpg
Temperature colors (scale on left)
https://en.wikipedia.org/wiki/Red_heat
I used the colors in the illustration there to create a photoshop scale between 550°C and 1300°C, then did white above, and a slight fade down to grey below.
Hydrocarbon fire range of 800°C-1200°C, various. Common temp cited for house fires is 1100°C, but range is more.
Strength reduction in steel - various, this is a topic in itself. There's a variety of graphs of this, and it varies between steel types and there's a different between yield strength and compressive strength.
https://ascelibrary.org/doi/full/10.1061/(ASCE)MT.1943-5533.0000600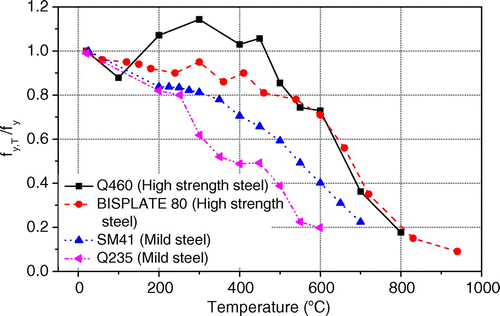 http://www.leancrew.com/all-this/2013/05/steel-in-extremis/
(Diagrams from Brockenbrough and Merritt's
Structural Steel Designer's Handbook
.)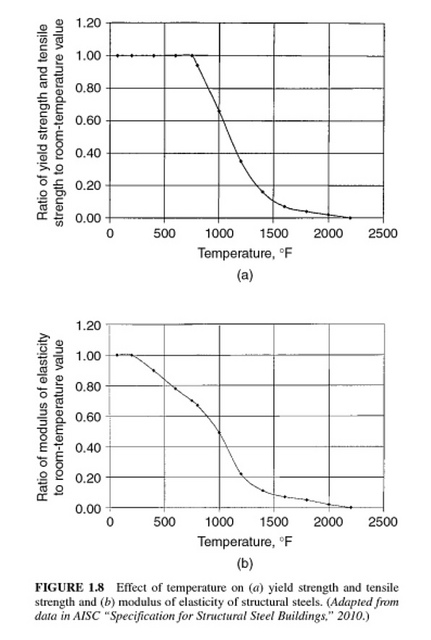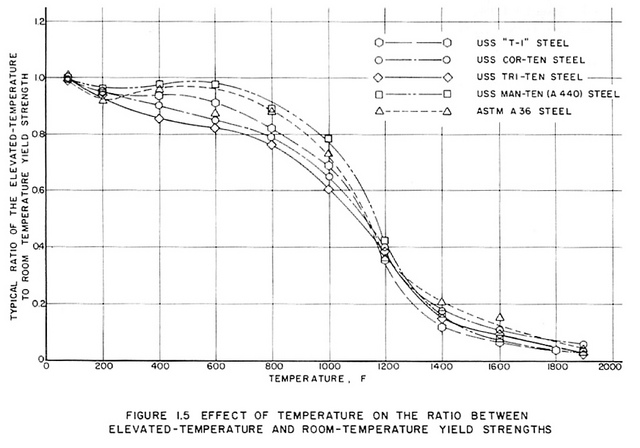 The "50% at 1200°F/650°C" actually seems a bit high a temperature, but it's a conservative round number.
Last edited: