The Awkward Photo that Multi Millionaire John Kerry Doesn't Want You to See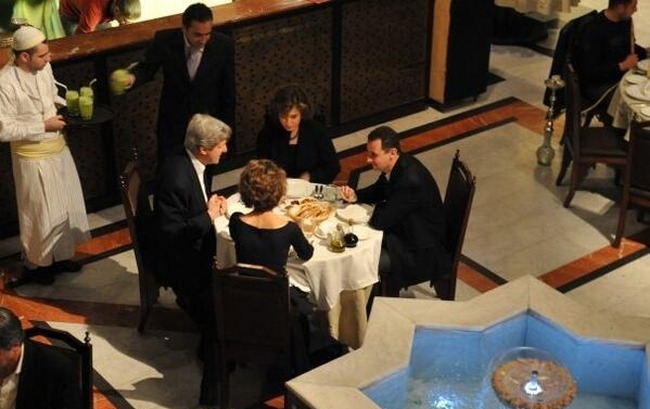 Kerry and wife having a cozy dinner with the Assads in 2009
Kerry a Frequent Visitor with Syrian Dictator Bashar Al-Assad
Dec 21, 2012
http://www.weeklystandard.com/blogs...r-syrian-dictator-bashar-al-assad_690885.html
"Well, I personally believe that -- I mean, this is my belief, okay? But President Assad has been very generous with me in terms of the discussions we have had. And when I last went to -- the last several trips to Syria -- I asked President Assad to do certain things to build the relationship with the United States and sort of show the good faith that would help us to move the process forward," said Kerry at a think tank.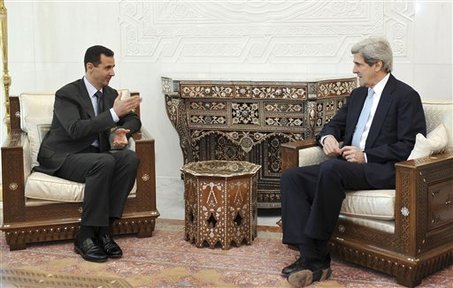 John Kerry Does Not Like Bashir anymore
John Kerry quote from Sec of State Confirmation hearings:
"Never before has a new world order had to be assembled from so many different perceptions, or on so global a scale"
Kerry @ 1:04
One day someone is going to ask these employees of ours just exactly WTF they are talking about.
But not soon enough! LOL @ the masses.
So after Milosovic and Kosovo (
PNAC war started by lies
), and Iraq and Hussein (war started by lies) and Libya and Gaddafi (war started by lies) how can anyone even begin to believe anything they say at all?
Last edited by a moderator: