This commonly seen quote is what I'll call a.... "skim-surface" simplistic attention-getter, and is often found among social media posts and web sites.
It suggests, that many people should be afraid of technical, scientific, or latin names of commonly found food products and other ingredients..........that are difficult to pronounce -- in their pure or otherwise natural state.
Various graphics: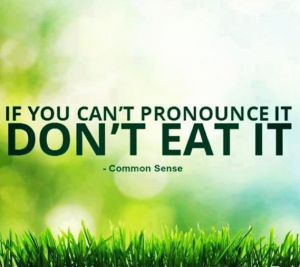 http://skeptoid.com/blog/2014/09/23/chemical-quiz/
http://www.someecards.com/usercards/viewcard/MjAxMy1iYmY2MGJlZTAwOGIzMzMz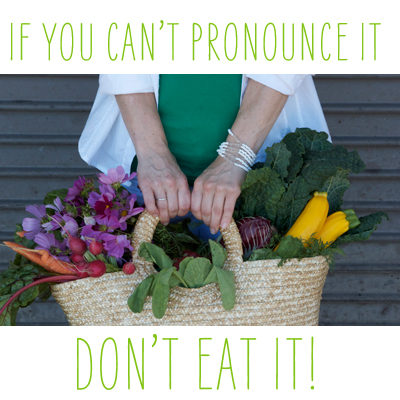 http://www.365daysofradicalselftransformation.com/2014/03/21/5-ways-ditch-diet-fads-trust-gut/
These graphics are a scare tactic of sorts, to get people to believe that the "list of ingredients" may contain potentially harmful substances that best be avoided.
Most "hard to pronounce" ingredients are completely natural. Regulations by the US FDA labeling, often requires a technical description if added as a separate ingredient, and also can be specified as "dietary supplements".
http://www.fda.gov/Food/GuidanceReg...yInformation/LabelingNutrition/ucm2006828.htm
To be fair.....not all ingredients are "naturally occurring", such as preservatives, some additives, and food coloring. There are a much lesser amount of these though....and investigation may be necessary if you are concerned.
It's unfortunate these graphics do not explain the above.
But they don't. The quote plays to people's base mentality.
Let's cook a healthy soup, and see what's in it.....and if the ingredients are easily pronounceable:
Umbellularia californica
Daucus carota
Allium cepa
Apium graveolens var. dulce
Solanum lycopersicum
Allium sativum
(the above is: bay leaf, carrot, onion, celery, tomato, garlic)
Skeptiod has an article on this subject: (by Michael Rothschild)
http://skeptoid.com/blog/2014/09/23/chemical-quiz/
The cautionary maxim "if you can't pronounce it, don't eat it" became popular thanks to food writer and activist Michael Pollan. In an

NPR story

from 2008, he wrote it as an easy to remember phrase: "Don't buy products with more than five ingredients or any ingredients you can't easily pronounce."

Since then, popular alternative medicine websites and food activists like "Food Babe" have run with this simplistic notion, turning it into a virtual crusade against anything that sounds like it might be harmful, artificial or created by a corporation
The NPR story....
http://www.npr.org/templates/story/story.php?storyId=89876927
(hear it...
http://www.npr.org/player/v2/mediaPlayer.html?action=1&t=1&islist=false&id=89876927&m=89913844
)
While Pollan's suggestions are generally good advice.......the quote, "Don't eat anything you cannot pronounce"......has become a viral meme for many....or any, alternative health web ideas.
Last edited: