"Arts Parts" refers to a collection of objects that were supposedly anonymously sent to Art Bell.
https://web.archive.org/web/20010614020521/http://www.artbell.com/roscrash.html
The "vent" material is very interesting:
That's a much more specific look. Very similar to air-conditioning vents, but on a dollhouse scale.
UPDATE Dec 12 2019 - The following is a summary of the identification from the thread below.
It's almost 100% certain this is a sheet of louvered fins for a heat exchanger (like a radiator or air conditioner).
Here's a VERY good match.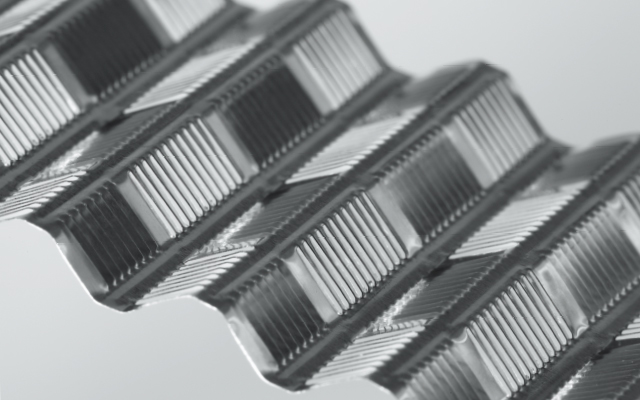 Source:
http://www.daiwaracinglabo.com/about/
Note the exact same pattern of alternating direction blocks of 10 louvers, with long vertical grooves between the louvers where they are bent into an S-shape.
Here's another example showing the alternating directions of the louver pitches.
https://www.intechopen.com/books/he...e-study-of-heat-exchangers-with-louvered-fins
And another, showing the normal zigzag structure of the fins, with some fins partially flattened.
https://www.dewitts.com/blogs/news/what-is-serpentine-fin


Posted on June 12, 2018 by Tom DeWitt

Automotive radiators use a thin foil material, rolled formed into a corrugated pattern, to transfer heat from the cooling tubes to the air. During the roll forming process small windows or louvers are stamped into the foil. The louvers are formed in a group on one half of the material and then a mirror opposite on the other. As air passes through the radiator core, the louvers deflect the air flow in a S-type or snake pattern. As a result, the term "serpentine" was adopted. Louver pattern, angle, and width can all have a specific effect on heat transfer.

Well done
@deirdre
, who first found this connection.
Last edited: