Various test kits are available that claim to indicate the presence/absence of any number of substances.....metals, carcinogens, etc.,...indicated to be potentially harmful, or essential for proper health.
Some are useful, like testing a single substance such as Lead in old paint chips, Radon gas in living areas , CO2, radioactive presence, etc....
There are even human "DNA" ancestry home test kits.
Then there are the test-kits aimed at natural health conscious people, aiming to test for vitamin/nutrient deficiencies, metal toxicity, or other human body imbalances.
Many of these test kits are sold to people interested in alternative medicine and anti-pharma "natural cures" and supplements.
Cheap ($) test kits are available to determine nearly any popular deficiency, and the kits' purpose varies by current health fads.
The highly untested herbal/supplement remedies are then claimed to help resolve the test-kit's findings. Unremarkably, the cures are nearly always sold right next to the test-kits.
https://osumex.com/prices.php
In the absence of a $20k grant, I cannot test many of the popular home test kits' claims.
In the presence of $50 dollars I can get 4 test kits.
Perhaps I still do not yet understand how a home test can differentiate between 7 or more metals, in one test kit vial.
http://www.amazon.com/gp/product/B009XTBXYQ/ref=oh_details_o00_s00_i00?ie=UTF8&psc=1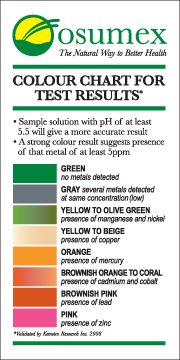 It's results like this, that make me question the kit's ability to produce accurate returns.
If the chemicals of a natural leaf are introduced into the test....it surely invalidates the test, regardless of it's prior accuracy.
I ordered 4 of these same test kits. That's my budget (so far).
I'll have 3 available tests, testing different substances, leaving one for "a control".
Or I could test two substances, and have a control for each.
Any advice would help, in my $50 experiment.
I'll post my results after I receive the kits and do the tests.
Last edited by a moderator: