I find it very strange that every day traffic flies in the pattern as we can see from satellite images. They are short little strips side by side, not the pattern I expect from a regular air flight.
Here is a picture from a trail in the sky above my hometown. What would the pilot here be doing? The nearest airport is 100km away and it doesn't even look like holding.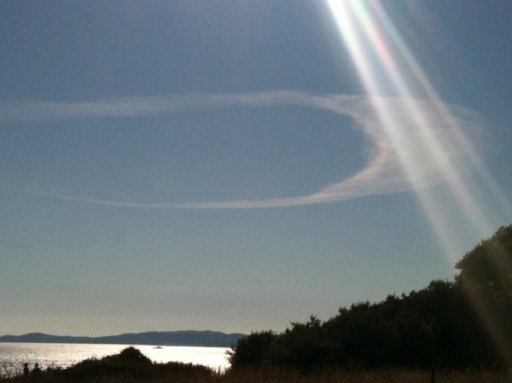 What is your response on the fact that there has been various examples (with prove) that governments have experimented with chemicals on people and the fact that governments are involved in geo-engineering? Of course contrails exist but do you really trust the government that much too say that they would never spray chemicals in the air that could potentially or definitely harm us?
http://urlbam.com/ha/M004U
I guess I know the answer to this and I also assume you and your friends don't believe in the 3 laws of thermodynamics as you think that the NIST is a pretty good analysis of what happened on 9/11. Really?? Are you that much brainwashed? I guess you have to be. Anyone is completely discrediting him or herself no matter how plausible your arguments are, when you believe that a building can collapse into its own footprint at free fall speed due to fire. You may be more intelligent than I am but apparently that doesn't exclude you from being ignorant. I am sure you are happy to hear that I will no longer post any more comments.