Administrator
Staff member
Source:
https://mufoncms.com/cgi-bin/report...=f1_submitted_datetime+DESC&case_number=80168
The above photo comes for a MUFON report (80168) with the description:

As I was hiking with a large group of people in the mountain called Lubeten 2498 in Kosovo, I made some zoomed photos of people hiking near the ridge of the mountain. After I came back at home and looked the photos, I saw several pics with a golden orb behind some hikers. There were around 230 hikers and nobody noticed it. I have more pictures of the orb hovering around.

Anyone familiar with UFOs will have heard of "orbs", but usually these refer to either transparent glowing disks that show up in flash photography (reflecting off out-of-focus dust or rain) or to lights in the night sky.
But there's a third class of orb photo, what appears to be a reflective sphere that appears in the daylight, as seen above.
There's only a few of these types of sightings.

Source:
http://www.colinandrews.net/Orb-UFO-BEAMS-CheesefootHead.html
The Lubeten photo (with the hikers) had EXIF information.
Date and Time (digitized) 2015:10:25 13:17:09
Exposure Time 1/500 s
Aperture F5

ISO Speed Ratings 100
Model Canon EOS 7D
Lens Model EF70-200mm f/2.8L IS USM
Unfortunately this is the only photo we have of the orb as the "more pictures" never materialized, which casts some doubt on the account of the photographer.
[UPDATE: the other photos have been discovered:
https://www.metabunk.org/posts/230724/
]
Since I also have a Canon 7D with a 200mm zoom lens I was able to very closely replicate a similar photo using the exact same settings:
Here I'm juggling three balls, the two in the air here are a transparent acrylic ball (bottom) and a reflective spherical Christmas tree ornament (top). You can see the reflective sphere matches the Lubeten sphere best.
This was even more apparent when I moved to a different ridge with the sun in a better position.
So that raises the possibility of there being someone just over the ridge throwing a ball around.
Another obvious option is the most common cause of shiny round things in the sky - a mylar balloon. Here the small visual size and the high zoom (200mm x1.6 crop) would put it quite some distance beyond the hikers. It's about 1/5th the size of a typical balloon, using the guy next to it as a reference. My similar photos we from about 230 feet (ca. 70 meters), so a balloon would be over 1,000 feet (ca. 305 meters) away, probably not that noticeable to the naked eye.
A balloon though would probably fit the second example: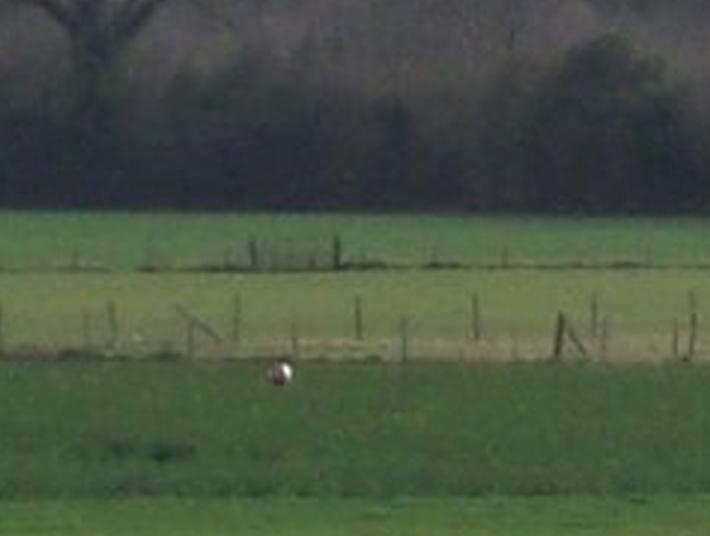 My immediate reaction was that it might be a raindrop. I attempted to replicate this with a garden hose, but it was impossible to get the drops in focus. Here you see a shower of them on the right.
Water on the lens was also suggested, but that's even less likely to be in focus than raindrops, especially at f/5 and zoomed in. Even at f/22 and wide angle, this was the best I could do:
With my lens looking like this:
Zoomed in to 200mm, and there's only the faintest hint of drops.
So it seems like these orbs are something actually out nearer where the camera is focusing. Ball, balloon, transdimensional visitor.
Any other ideas?
Last edited: