Dane Wigington recently posted another one of his revelations about the past history of geoengineering.
Climate Engineering And Polar Meltdown, How Long Has It Been Going On?
http://www.geoengineeringwatch.org/...polar-meltdown-how-long-has-it-been-going-on/
His evidence in this case focuses on a 1958 article featured in
Popular Science entitled "Weather as a Weapon"
.
Many threads have addressed Wigington's penchant for interpreting old theories, studies, speculation, or U.S. patents as iron-clad evidence of ongoing geoengineering efforts by the "global power structure." The
Popular Science
article falls into the same category and is a fairly easy assertion to debunk.
I wanted to dwell on this part of history to add a little more context to the discussion.
People were fascinated by the possibilities offered by technology after World War II. Paul Boyer wrote a great book,
By the Bombs Early Light: American Thought and Culture at the Dawn of the Atomic Age
(Pantheon Books, 1985) that discusses this particular topic.
In the forties, we were captivated by the possibilities of atomic power. Theorists speculated that pea-size power plants could run cars and planes for years.
In the fifties, the helicopter was the new wonder weapon.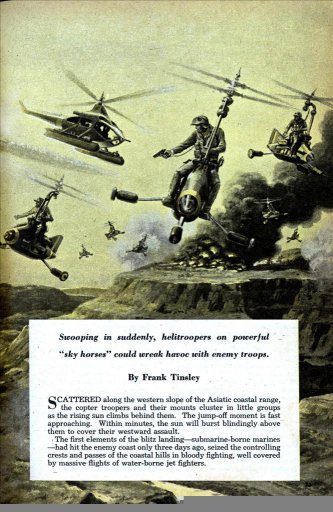 Frank Tinsley, "Let's Use Helicopter Cavalry,"
Mechanix Illustrated
(April 1956): 72-77.
http://blog.modernmechanix.com/lets-use-helicopter-cavalry/
Robert B. Rigg wrote
War—1974
in 1958 and offered a host of new innovations to combat, from flying tanks to resupply missiles.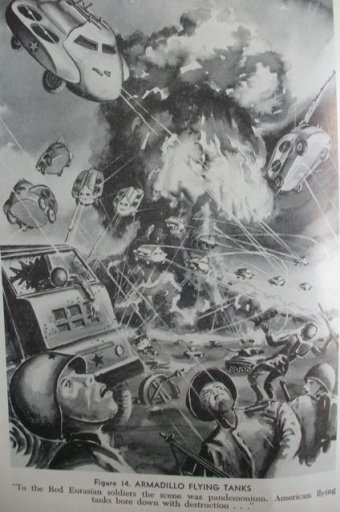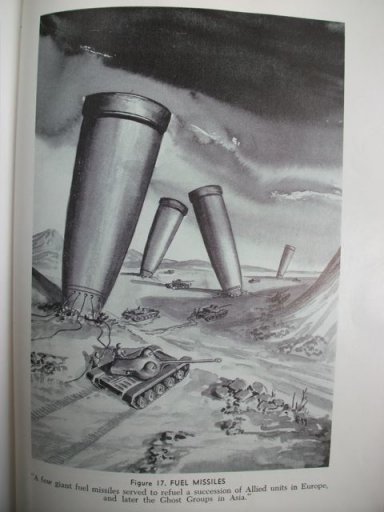 Some future predictions applied to the weather. H.T. Orvilled penned "Weather Made to Order?" for
Collier's Weekly
in May 1954. The cover has appeared on Metabunk and other CT websites.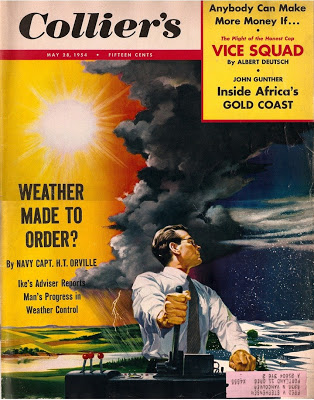 I supposed that my point is fairly simple. At a time when the polio vaccine was conquering a chronic disease and the Mercury Program was just getting started, there was a much greater sense of optimism about how science and technology would affect the future than there is today.
It is sad to see this history shoe-horned into a chemtrail agenda the way it appears on geoengineeringwatch.org