Administrator
Staff member
I've updated the Forum software from Xenforo 1.3 to Xenforo 1.4b1. This is labled as Beta software, however I encountered zero problems in installing and testing on a mirror version of the site, and I'm failt confident there are no issues.
One thing you may notice is the green dot in the upper left corner of a member profile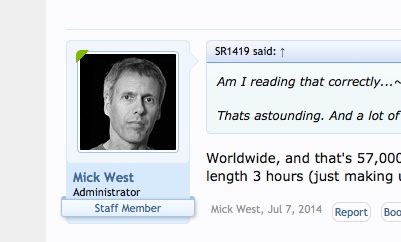 This indicates if a user is online or not. You can stop this showing up on your profile under your preferences ("Show your online status").
The old "Quote Me" has changed to "Reply", as that was an add-on that was replaced by core functionality.
Upgrades are largely to do with board administration, a full list can be found here:
http://xenforo.com/community/forums/have-you-seen/?prefix_id=35
As usual, let me know if anything breaks.