A week ago, on January 9, 2016, a vast contrail grid was formed over the Southeastern Australia. Its images were captured by all three satellites in the
NASA Worldview
: Terra, Aqua and Suomi NPP. The Terra image below is a composite of two swaths, the right one was taken at 23:55 (8-Jan-2016) UTC and the left one at 01:30 UTC: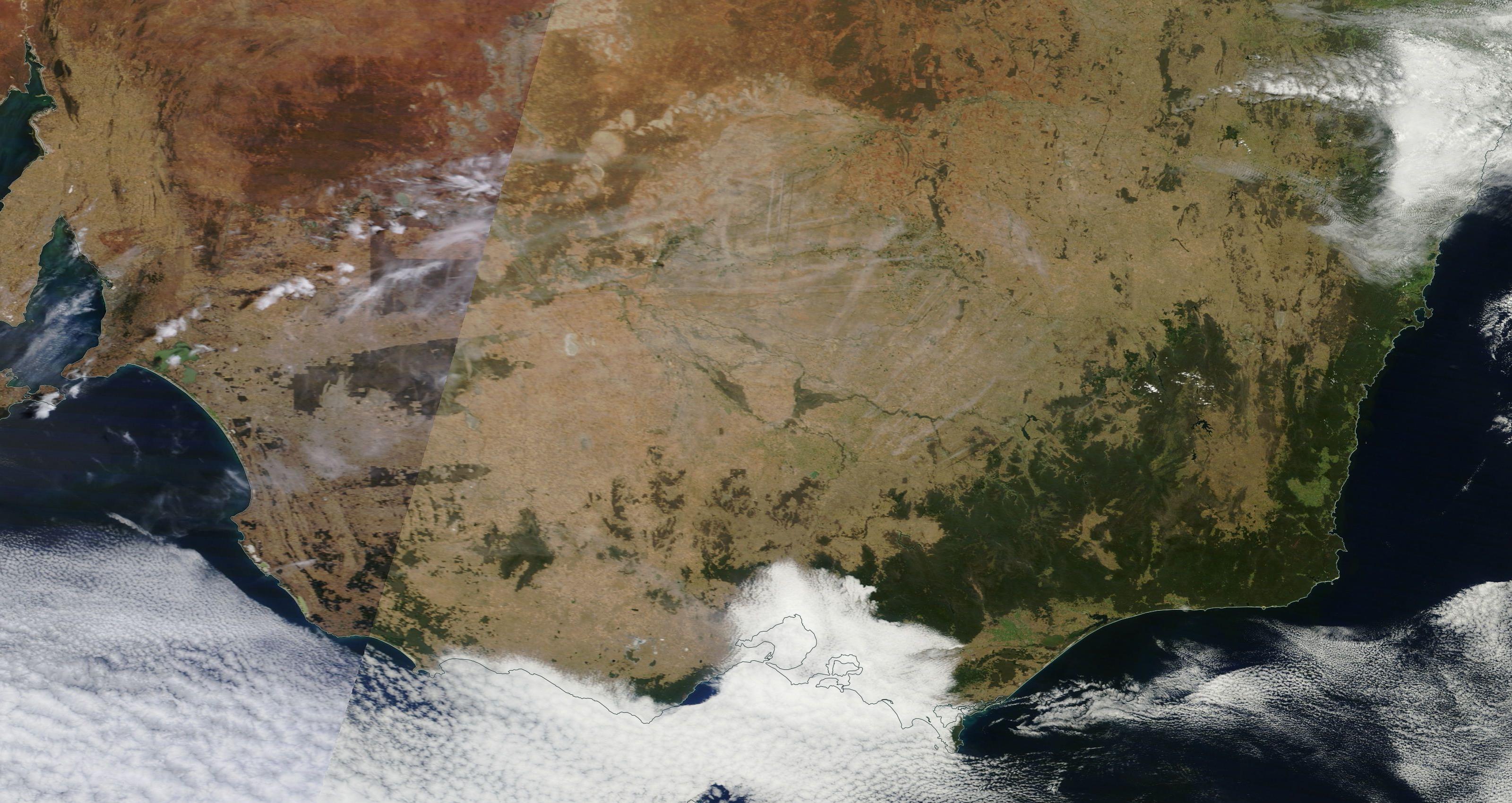 The Aqua and Suomi satellites passed over this area later, at about the same time, 04:05 and 4:00 UTC, respectively. Separated by a few hours, these images give us just snapshots of the grid, the older contrails in which probably dissipated and were replaced with younger ones.
Fortunately, it was possible to follow the evolution of this particular contrail grid thanks to the Japanese weather satellite
Himawari-8
. It is located on a geostationary orbit above the Equator and a meridian that passes through Japan and Eastern Australia, so the images of this area are available on the
Himawari-8 Real-Time Web
.
Here is a time-lapse video of the Southeastern Australia made of the Himawari-8 images taken with 10-minute intervals on January 9, from 7 AM to 7 PM AEDT (20:00 - 08:00 UTC):
The location and spread of the grid is in a complete agreement with the
forecasted wind and RH at 250 hPa
:
There was a long band of wet air spreading across the region, and the anticyclone centred west of Melbourne, which created an easterly wind along the band carrying contrails and rotating them due to the gradient of wind speed.
The band of wet air laid across several Australian major air traffic routes, both domestic and international. Most of them originate or terminate in Melbourne, but there are also routes between Sydney and Adelaide and Sydney and Hobart that were crossing this initially invisible cloud, leaving persisting and spreading contrails. Note that the best resolution of Himawari-8 instruments is only 500 m, so the contrails would have to spread quite a bit to be detected. Therefore, there also would be a delay between the flight crossing the band and the appearance of its contrail. It would hinder the identification of individual flights, but there is a clear correlation between the FR24 playback of the day and the timings on new contrails in the
Himawari-8 images:
The aircraft are filtered by altitude; shown are only those flying 30,000 ft or higher (apologies for such a small gif, I have a problem with uploading a bigger one).
Last edited: