Administrator
Staff member
Here's a typical video of the latest odd thing that people spotted near the sun:
​
The suggestion being that there's somehow a giant spherical object hovering near the sun.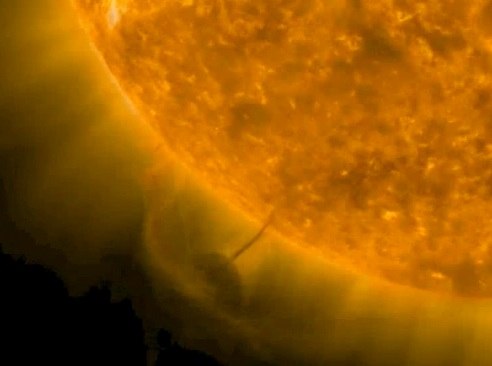 What this is though is just something that's unfamiliar to most people, but something that solar scientists have been aware of for some time, a transitory cavity in the solar plasma field, known as a
coronal prominence cavity
, or polar crown cavity. Often associated with Coronal Mass Ejections (CMEs). This does appear to be a quite interesting one, with attached vortex. But that's all it is. Not a giant space ship sucking fuel from the sun.
You see a lot of these types of "odd-thing-near-sun" things on YouTube, based off video feed from the Solar Dynamics Observatory. That's basically because the SDO is new (just two years old), and people are not used to the amazing displays the sun puts on. Some of which will be new to science as this the the best view we've
ever
had of the sun.
There are numerous papers describing these cavities, so I'll just give some links, extracts and images:
A new look at a polar crown cavity as observed by SDO/AIA. Structure and dynamics⋆
We propose to define a polar crown cavity as a density depletion sitting above denser polar crown filament plasma drained down the cavity by gravity. As part of the polar crown filament, plasma at different temperatures (ranging from 50 000 K to 0.6 MK) is observed at the same location on the cavity dips and sustained by a competition between the gravity and the curvature of magnetic field lines.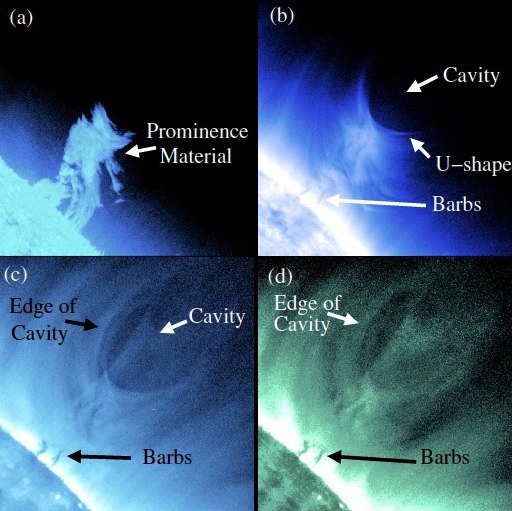 Coronal Prominence Cavities
Cavities are commonly observed as part of a CME, but may also exist before
eruption (Sterling and Moore 2004; Gibson et al. 2006). Such quiescent cavities appear as
dark, semi-circular or circular regions, often surrounding a central prominence (relatively
cool and dense plasma suspended in the solar corona), and embedded in a helmet-shaped
white-light streamer (Figure 1, left). They are ubiquitous: several may be visible on a given
day; and can be long-lived (on the order of months): either reforming or only partly erupting
in CMEs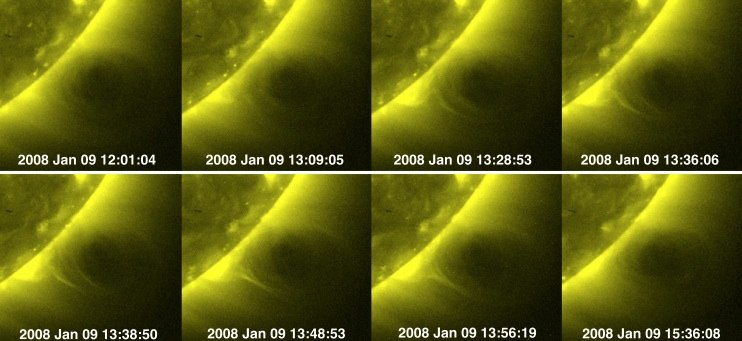 A STABLE FILAMENT CAVITY WITH A HOT CORE
At the limb, the geometry of the cavity enclosure becomes
more visible because of projection against the background sky.
One typically then sees a white-light coronal streamer, often
with a hollow cavity underneath. Such cavities sometimes form
long-duration X-ray arcade events and launch coronal mass
ejections (CMEs) of the "streamer blowout" type.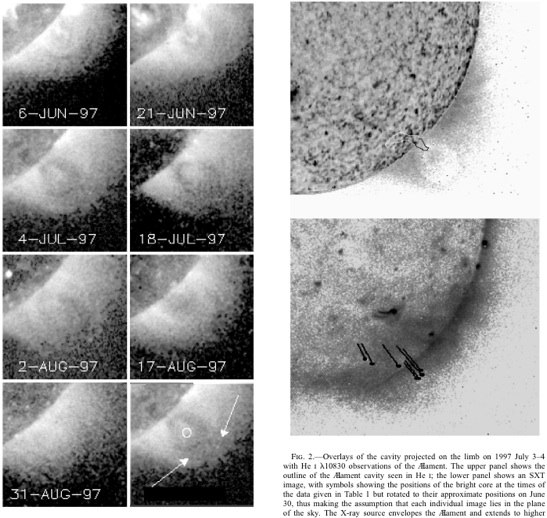 Forward-modeling of Polarization Signals: Gaining A New Perspective on the Solar Corona
Seen in the accompanying movie, forward modeling was used to predict morphology of a coronal prominence cavity. The animation shows EUV observations of a cavity from NASA's STEREO spacecraft on the top/left, as well as the forward-modeled predicted EUV for the coronal cavity on the bottom/right. As time goes by in the movie, it's possible to see the 3-dimensional, tunnel-like cavity rotate past.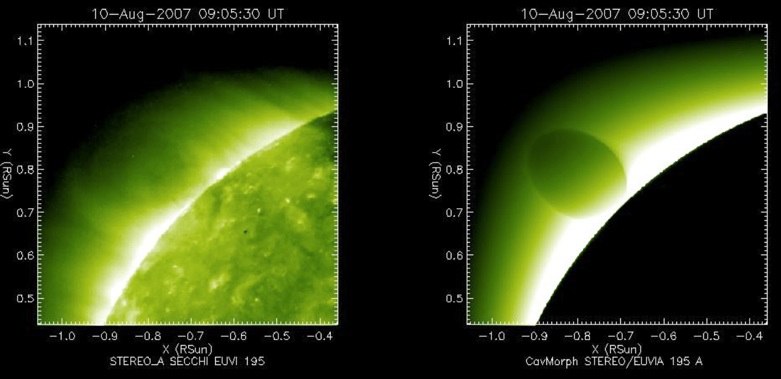 And see this video debunking:
​
Last edited: