From Cryptozooloogy News
http://cryptozoologynews.com/colorado-man-photographs-flying-jellyfish-like-critters
/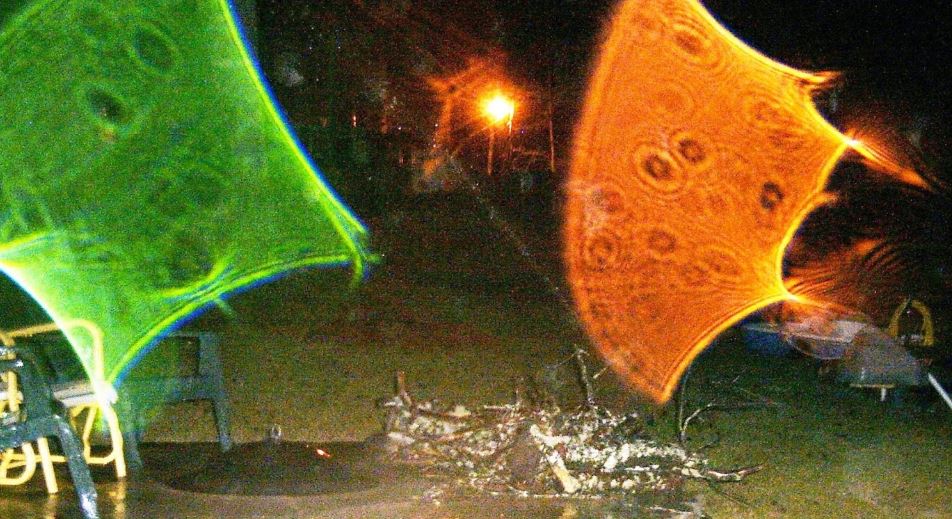 Now I''m not sure about the credibility of the source for a start, Larry Smith has also claimed to have seen Mongolian Death Worms, encountered saquatch and seen 'many' UFO's. He is also claiming the 'creatures' are some kind of undine, or water spirit.
Now I'm no expert, but first glance at the photograph doesn't seam to show creatures as big as an 11 foot fire pit, the green one appears to be in front of the garden chair, and there are sticks from the bonfire behind the orange one. (also comparing the fire to the size of the chair shows Mr Smith is also exaggerating the size of his fire)
I think what ever is causing the effect is on glass, there are streaks and smears all over the picture, including one notable one running diagonally across the centre of the shot and several of what appears to be finger prints. But as these also appear in front of the alleged critters is suggests to me that the photograph was taken through glass, the mucky streaks on the inside and the 'critters' on the outside.
As to what they objects actually are, I guess at water droplets but dont know how that would explain the colouring. Lens flare may be, or even water droplets AND lens flare. may be some one here with more technical savvy than me could explain this better?
And for reference here's the camera that it is claimed was used
http://www.cheaperthandirt.com/product/62430