[Admin: The video that this story refers to has since been removed by the maker, George Barnes]
The Weather Channel forecaster seems to say, "it is Saturday March first and of course we are starting meteorological spraying ... ".
Here is the transcript; cleaned up as much as I can.
0:00 [inaudible] Weather Channel forecast and it is Saturday March first and
0:04 of course we are starting
0:05 meteorological spraying with a winter storm that
0:08 will be in tracking into the tri-state area beginning tomorrow afternoon
0:12 continuing right in to Monday...
So, what does this mean? Have George and I heard this wrong? "... meteorological spraying ... "
-----------------------------------------------------------------------------------------
UPDATE via
@solrey
: The weatherman is actually saying "
we are starting meteorological spring
".
Meteorological spring starts on March 1st. In Meteorological terms "Spring" is March, April and May.
http://en.wikipedia.org/wiki/Spring_(season)#Meteorological_reckoning
Meteorologists generally define four seasons in many climatic areas: spring, summer, autumn (fall) and winter. ... Spring, when defined in this manner, can start on different dates in different regions. In terms of complete months, in most north temperate zone locations, spring months are March, April and May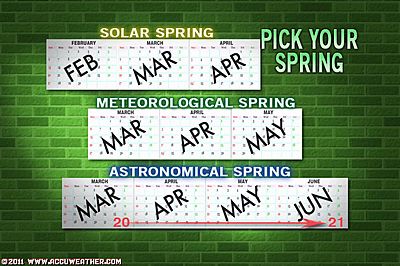 The irony of a huge storm arriving at the start of "spring" is a big of a joke for weather forecasters:
http://philadelphia.cbslocal.com/2014/03/01/weather-blog-march-1-and-snow-on-the-way/

By Carol Erickson, March 1st 2014

PHILADELPHIA (CBS) — It might be meteorological spring today, but everything else points to the dead of winter.

http://www.chicagotribune.com/news/...-supposed-to-be-over-20140228,0,7018325.story

Staff report and WGN-TV
7:05 a.m. CST, March 1, 2014

March may mark the beginning of meteorological spring, but with up to half a foot of snow expected this weekend, winter is beginning to resemble a guest that doesn't know when to leave.

http://www.myfoxboston.com/story/24...ows-sunday-followed-by-slipper-monday-commute

FROM FOX 25 METEOROLOGIST SARAH WROBLEWSKI
Posted: Mar 01, 2014 3:58 PM PST
We had sunshine to start the first day of Meteorological spring, but temperatures failed to meet the normal highs (low 40s) for this time of year, only hitting the mid-30s.