Administrator
Staff member
This fake quote, attributed to JFK, has been cropping up quite a bit on Facebook:
[bunk]One day after I am long gone, you will remember me and say, we should have stopped the nuclear program of Israel, abolished the Federal Reserve and kicked all secret societies, occultists, usurpers and Zionists out of our wonderful country, to keep it that way, but it is never too late, just remember that.[/bunk]
It even has an image version: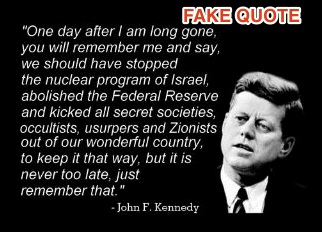 How do we know it's fake? Quite simply because
there is no record of the quote ever existing before 2011
. It's not in any book, nor in the Presidential records (which list every speech JFK ever gave). It appears almost exclusively on Facebook and on anti-Zionist sites.
Last edited: