Administrator
Staff member
There's a type of scam out there that's being going on for at least 100 years. A company claims to have invented or discovered something that will make a lot of money. Quite often this will be in the field of energy, although we see them more and more in the field of weather control and information technology. The company can demonstrate research, they will often hold one or more patents on the technology, and they will have some kind of prototype that does not actually fully work, but they claim is a demonstration of the proof of concept. They won't reveal all the details, despite having filed patents, because they either don't want people to steal their ideas, or they claim it's too early, and more research needs to be done.
What they are looking for though, is investors. They will talk about the huge potential market, and hence the huge amount of money to be made. They will get people to invest in their company. The technology will go nowhere slowly, and eventually the principals will withdraw, and the investors will end up with nothing.
The scam works because it's not illegal to be wrong, unless you actually know you are wrong. So if you think you've discovered a form of free energy, it's perfectly legal to set up a company to research and develop the technology. It's quite legal to solicit investment based on what you think is correct science - even if it does turn out to be wrong, and the investors lose all their money. They took a risk, they lost. It's quite legal to pay yourself and the other principals a large salary.
So all you have to do to run such a scam is to never admit you knew it was a scam. You have to pretend you believe in the technology. Then when it fails you simply keep insisting that you thought it worked, and you were sorry you didn't get enough time to work out the kinks.
Then of course there are those people who actually ARE convinced that their technology works. There are plenty of people who think they actually have discovered something new, and they just need a bit more research to make money from it.
So which of the two is V3Solar?
http://v3solar.com/coolspin/
V3Solar claims to have invented a technology that makes solar energy 20x as efficient. They do this by magnifying the suns rays with a lens, so you get 20x as much sun on 1x the area. Now regular solar cells don't do this because the cell gets really hot, and breaks. V3Solar claim to have solved this by mounting the cells on a rotating cylinder, partly so that the wind from the rotation cools the cells down, but mostly so that only 1/20th of the surface is exposed to the concentrated sunlight at once.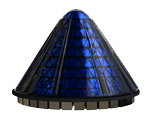 The problem is they seem to forget that multiplying something by 20 and then dividing it by 20 does not equal 20. It equals 1. So they are right back where they started. Plus since half their solar cells are in shade, then it's really 0.5, and since they are on a curved surface, it's more like 0.3. Oh and not to mention that the solar panels are enclosed in a glass cone, so will actually get quite a bit hotter than regular solar panels.
Basically their claims make no sense at all. Look at the image of a "CoolSpin":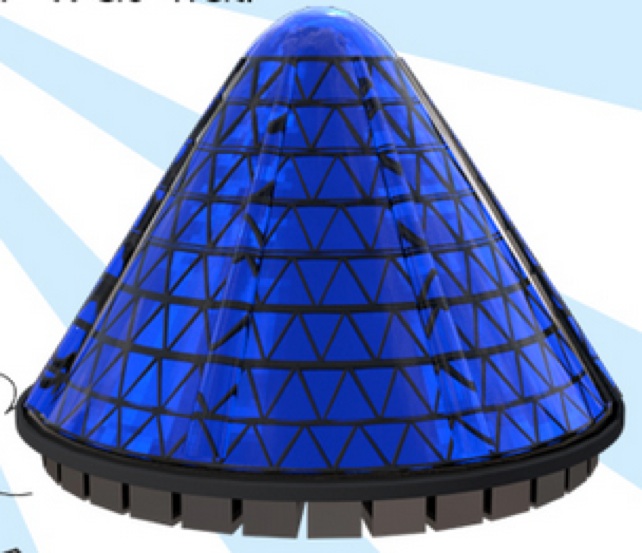 The cone is mostly constant thickness glass with zero magnifying effect. The "lenses" are the ribs, glass tubes. So let's say those glass tubes are concentrating the sunlight 20x. The problem is that all that light which is now concentrated would have fallen on solar cells anyway. The net amount of sunlight (and hence harvestable energy) falling on the cells is unchanged. And since most of the cells are not facing the sun, then it's going to be very inefficient.
One could do a very simple experiment to see if this approach is at all viable. Just get a magnifying glass that the same area as a solar cell, focus it down to about 1/20th the area of the cell, then move it rapidly over the surface of the cell, and compare the power output against direct sunlight.
Consider another of their claims:
This is nonsense. Sunlight is electromagnetic radiation. It all travels at the same speed, and it all hits at the same time. The cell is not heating up, because it's only getting a small fraction of the heat, and it's only getting a small fraction of the energy.
Consider their "Technical Review", where the key bits of magic are:
http://v3solar.com/technology/technical-review-by-bill-rever/
Which basically suggests there's a small efficiency gain by using concentrated pulses of light rather than constant regular sunlight.
and
Combined with the image of the cone, this is
utter nonsense
. The lensing material in the cone is NOT 20x the area of the PV (the blue triangles). It's about 1/8th the area. About 100x SMALLER than the ratio they are claiming. Even if the entire cone was covered in lenses, and the inner PV cone was half the size, then the ratio would only be about 4x.
Here's what it would look like it it were actually concentrating the light 20x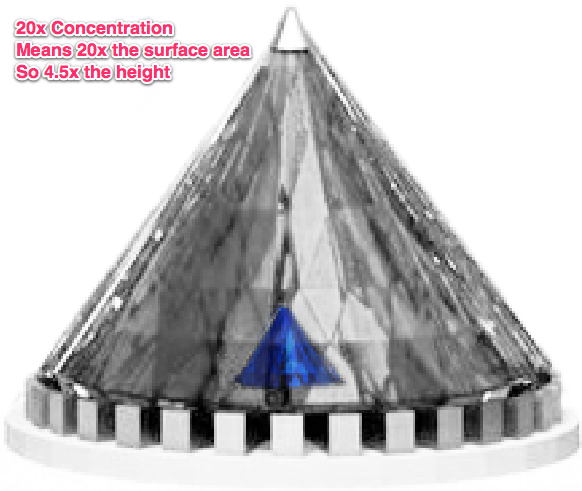 Their numbers do not add up. But unfortunately for investors there is no law against being bad at math.
[Update Jan-13 2014]
The following text was originally at the top of this post. I've moved it because
V3Solar have modified their claims over the last few months, and I've talked to Richard Styler and Michael Neistat, and as far as I can tell they honestly believe in the technology, but don't really follow all the science. Characterizing their entire endeavour as a possible scam is perhaps over-broad. However I stand by the analyses done here, and I continue to have concerns regarding the accuracy and significance of the claims they are making.
[update Dec-5 2016]
Since V3Solar have actually followed the normal patterns of promises, investment, then vanishing, I've restored the text to the top of the post.
Last edited: