Administrator
Staff member
This is actually an old hoax that has recently resurfaced. The original is from 2009 by known internet hoaxer Sorcha Faal:
http://www.whatdoesitmean.com/index1245.htm
June 29, 2009

US Reported In "Panic" After Chemtrail Planes Forced Down In India, Nigeria

By: Sorcha Faal, and as reported to her Western Subscribers

(Traducción al Español abajo)


Russian Military Analysts are reporting in the Kremlin today that US Military Forces are "panicked" over the forced landings ordered by Indian and Nigerian Air Forces of two Ukrainian AN-124 aircraft [photo top left] operated by the United States Air Force and based at their gigantic, but secretive,

Diego Garcia

air base located in the Indian Ocean.

According to these reports, China's People's Liberation Army Air Force (

PLAAF

) notified both India and Nigerian intelligence officials about the presence of these US operated Ukrainian aircraft over their growing concerns of the United States spreading of "biological agents" throughout our Earth's atmosphere, and which some Chinese officials are warning is an American-European attempt to conduct mass genocide via the spread of the H1N1 swine flu virus which has put the entire Global population at risk.

The first of these aircraft to be ordered down, these reports continue, was over India when a US operated AN-124 changed its call sign from civilian to military as it was preparing to enter Pakistani air space, and which triggered an immediate response from the IAF who

forced it to land

in Mumbai, and the second one was forced down by Nigerian fighter jets who

promptly arrested

both the crew and the plane itself.

Most strange about the reports filed by Indian and Nigerian intelligence agencies about these aircraft, other than the armaments they were carrying, were their waste disposal systems that these reports say could hold in excess of 45,000 kg (100,000 pounds) and from which a "technologically sophisticated" network of nano-pipes led to the trailing edges of the wings and horizontal stabilizers for "dispersing" the contents of the waste tanks in an "aerial-type mist".

"Furious" demands made by the United States to both India and Nigeria for the release of their planes led to Indian Defense officials allowing the AN-124 they had captured to be released. Nigeria, however, had to be "forcefully persuaded" to release its captured US plane when after its initial refusal to do so than had one of their

major oil pipelines blown up

by one of the many American backed terrorist groups operating in their country.
The story is actually based on some real incidents, but with none of the the added details about "nano-pipes" or any kind of spraying. The plane in India was simply a Ukrainian cargo plane on it's way from Diego Garcia Island to Afghanistan, when it accidentally strayed into Indian air space, and was forced to land:
http://ibnlive.in.com/news/us-aircraft-forced-to-land-in-mumbai/95269-3.html
(
http://archive.is/oN2ZD
)

June 20th 2009

Mumbai: A Russian cargo aircraft AN-124, which was hired by the US military, triggered panic at the Mumbai airport on Friday night. The plane carrying arms, ammunition and five people onboard was asked to land at the airport after it violated the Indian airspace.

The aircraft took off from Diego Garcia Island – a US military base near Mauritius in the Indian Ocean – and was heading for Kandahar in Afghanistan.

But it entered the Indian airspace at around 2200 hrs IST without having Air Traffic Control permission. The aircraft was forced to land at the Mumbai airport at 2240 hrs IST.

The AN-124 aircraft is used by military to haul cargo and is owned by a Ukraine-based logistics and cargo company. On landing, the Russian crew of the aircraft was immediately taken for questioning by officials of the central investigative agencies and the Directorate General of Civil Aviation (DGCA).

The questioning of the aircraft crew is on to ascertain the reasons of the airspace violation which swung the security apparatus into emergency mode on Friday night.

Here's the route from Diego Garcia to Kandahar, which you can see takes you very close to Indian airspace. So quite an understandable incident. (although it seems the actual interception was south of Gujarat)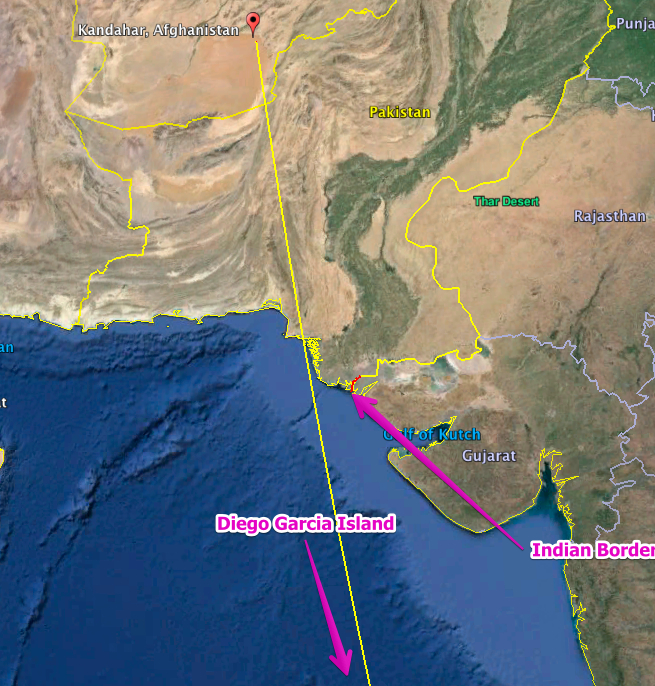 The Nigerian incident was simply another Ukrainian cargo plane (this time with no US connection at all), that was transporting arms from Zagreb in Croatia to Malabo in Equatorial Guinea, when it had to land in Nigeria due to mechanical problems. The plane was simple detained for a while due to not filling out the correct paperwork.
https://web.archive.org/web/20090702014450/http://www.kyivpost.com/nation/44128

26 June 2009

A Ukrainian An-12 aircraft recently arrested in Nigeria with a military cargo on board will soon be allowed to leave the country, National Security and Defense Council First Deputy Secretary Stepan Havrysh has said.

"Permission will soon be received for the aircraft to leave Nigeria," he said at a press conference after a council meeting in Kyiv on Friday.

Havrysh also said that the plane was in Nigeria as of 1500 Kyiv time, and added that the Nigerian side had no claims against Ukraine or the transporting agent.

Foreign media reported earlier that a Ukrainian cargo aircraft, said to be a Fokker with registration number UR-CAK, en route from Ukraine to Equatorial Guinea, was arrested on arrival at Aminu Kano International Airport in the Nigerian city of Kano after making an emergency landing due to a technical fault. Eighteen crates of arms were found aboard the aircraft when it was searched.

According to other reports, the arrested aircraft belongs to Ukraine's Meridian Air Company, which is based in Poltava region.

Ukrainian media reported that the aircraft had been carrying 60-mm and 82-mm mortar shells under a contract signed between Cyprus-registered Infora Limited and the Defense Ministry of Equatorial Guinea. The aircraft departed from the Croatian capital, Zagreb, bound for the capital of Equatorial Guinea, Malabo, reports said.

Ukraine's state-run arms export company Ukrspetsexport also said that it had nothing to do with the military cargo arrested by Nigeria.

The aircraft was arrested due to the violation of procedures for declaring the cargo of the plane when it was refueled in Nigeria.

Last edited: