Administrator
Staff member
The claimed quote is:
It's often accompanied with this image (which I've annotated in yellow). Note the misspelling of "noble" as "nolbe" (this was fixed in later versions of the image)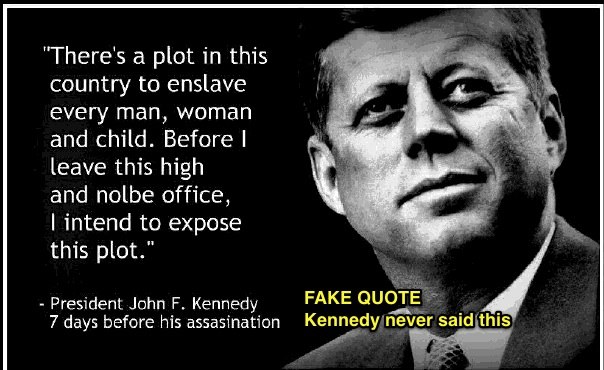 The first step in debunking a quote is to find the original source. In this case the debunking is easy, because
there is no original source
.
Kennedy never said that. It's a made-up quote.
The quote does not exist in any book indexed by Google, or Amazon. Zero results. Compare that with the "Monolithic and ruthless conspiracy" quote, which
gets over 1,520 results in Google books
. This means the "quote" is
so new
that it's not even got into any conspiracy books yet. And not only is there no record of him having said it, there's no record of anyone even claiming he said it.
In fact the "enslave" quote appears to be a relative modern corruption of an earlier fake JFK quote that cropped up in the 1980s.
[bunk]"The high office of the President has been used to foment a plot to destroy the Americans' freedom and before I leave office, I must inform the Citizen of his plight." -- John F. Kennedy (D) speaking at Columbia University,
10 days before his assassination.
[/bunk]
Sometimes with slightly different wording:
[bunk]"The high office of President has been used to foment a plot to destroy American freedom, and before I leave office I must inform the citizen of his plight."[/bunk]
This quote has an older provenance, with mentions in books dating back to 1982 , but there's no record before 1982, and nothing at all in official or academic records, or from newspapers at that time, or any personal accounts or recordings. Not only that, bur there is no record at all of Kennedy visiting Columbia University on any day in November.
The earliest mention seems to be in the 1982 book "Wealth for All: Religion, Politics and War" by R.E. McMaster. It's a typical far-right christian popular economics screed.
There's more investigation of this on the JFK Wikiquote page:
https://en.wikiquote.org/wiki/Talk:John_F._Kennedy
And there's an eyewitness account of his appearance (on the same page as the above)
And the official JFK Library also debunks the quote:
http://web.archive.org/web/20090310...Reference+Desk/Columbia+University+Speech.htm
And if we look at the newer "enslave"quote, seven days before his Nov 22 1963 assassination would be November 15th, 1963. On Nov 14th JFK
gave a news conference:
where he said nothing at all like that quote. That news conference is sometimes attributed to Nov 15th, as it appeared in the NYT the following day. Actually on Nov 15th, JFK gave two speeches.
The first was to the
AFL-CIO labor organizatio
n, and was a generally upbeat assessment of American industry.
The second was the
to Catholic Youth Organization
, and is slightly closer in tone, but still nothing like what is claimed. The following is an actual quote from JFK in that speech, and is the only thing of record that he said that day that remotely resembles the claimed quote:
The invented quote could possibly be an extreme corruption of this, but is more likely a paraphrasing of elements of the April 27th 1961 "conspiracy" speech that led to other mis-quotes:
https://www.metabunk.org/threads/16...-by-a-monolithic-and-ruthless-conspiracy-quot
I did a little digging to try to find some possible origins of the "enslave", and the earliest usages:
Earliest full mention on Usenet:
4/10/2004
[BUNK]"There exists in this country
a plot to enslave every man woman and child.
Before I leave this high and noble office, I intend to expose this plot.
" -
President John F. Kennedy - 7 days before he was assassinated.[/BUNK]
This has a different initial wording from the original. It's simply a quote in the signature of Dick Eastman, and could conceivably be the origin. I emailed Dick Eastman, but he did not remember where he heard the quote. Perhaps he wrote down someone else's paraphrasing of the "Monolithic and ruthless conspiracy" quote. One can imagine a preacher coming up with this version when preaching a sermon on the lessons JFK left us. But we'll probably never know where it really came from.
There are a couple of earlier posts on Usenet that sound somewhat similar.
Usenet post by Virgil Gray
, 11/25/2001
[BUNK]The enemies of God are going to kill and
enslave every man
woman and child
in this country. Their first test toward realizing this
began on September 11, 2001. [/BUNK]
alt.conspiracy post 1/18/1996
[BUNK]We have available video tapes of astonishing information. These tapes
cover credible information of a plan to build a one world government of
global domination. They cover things like prophecy, conspiracy and
high tech bio-tech secret plans to
enslave every man women and child
on
this planet.[/BUNK]
There is also some discussion
on Snopes
, and
on Reddit
.
Last edited: