This is a perennial meme amongst my facebook crowd, and I just had to spend fourty minutes pulling together sources to debunk it -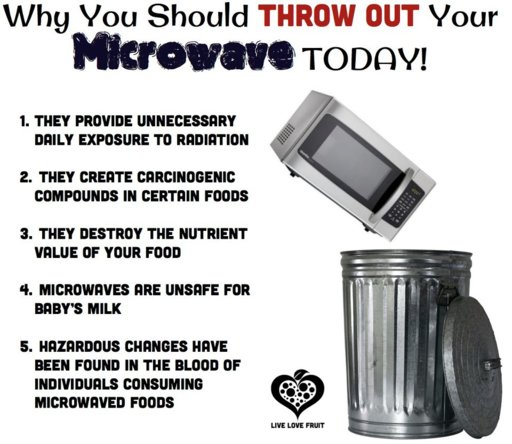 This image is currently being linked to the following article, which orbits close to the 'Dr Mercola' bloc of alternative nutrition advice -
http://livelovefruit.com/2013/03/471/
The article opens with the heavily debunked claim that microwaved water damages plant growth -
Snopes has a good page on this claim, (which I can't cut and paste from right now, sadly) -
http://www.snopes.com/science/microwave/plants.asp
"Unnecessary daily exposure,"
is a carefully worded distortion, as far as I can tell. Put more specifically, it should be something like -
"...unnecessary daily exposure to radiation IF you stand right next to your microwave every day when it's running, or if your microwave's internal shielding is broken,".
http://www.thedailygreen.com/environmental-news/latest/microwave-radiation-ovens-460709
Further to this, the article relies on a 'study' for it's data on this by Lita Lee (Phd)...Who's website you can find here, selling you 'healing enzymes' -
http://www.litalee.com/shopexd.asp?id=182
Here's another source of info on that claim, for balance, and it destroys a number of the other studies cited in the article which are used to back the
'destroys the nutritional value of food' in the article / meme
-
http://ehealthmd.com/content/microwaved-food-dangerous-myths-and-facts#axzz2NhIw2KtC
The memes 'baby' milk claim
is based on this sole, short term study by Richard Quan -
http://pediatrics.aappublications.org/content/89/4/667.abstract
It refers to a small sample of frozen human (mothers) milk, rather than any baby milk as is implied by theclaim.
It doesn't necessarily follow that this can be applied to all 'baby' milk, and how often do you microwave FROZEN milk anyway?
Still, there is a fact in there at least, though it's disputed by more recent research -
http://ehealthmd.com/content/microwaved-food-dangerous-myths-and-facts#ixzz2NhWducP5