This is a perennial meme amongst my facebook crowd, and I just had to spend fourty minutes pulling together sources to debunk it -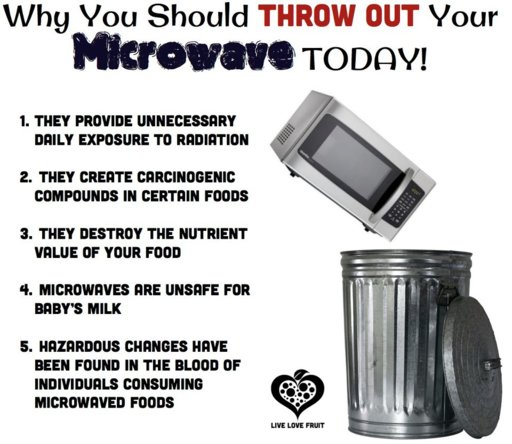 This image is currently being linked to the following article, which orbits close to the 'Dr Mercola' bloc of alternative nutrition advice -
http://livelovefruit.com/2013/03/471/
The first time I became skeptical of microwave ovens was when I conducted a small experiment by myself comparing the growth of plants (from seedlings) watered with regular distilled water vs. water that had been microwaved. Much to my surprise those plants that had been watered with microwaved water did not grow, or grew very poorly.
The article opens with the heavily debunked claim that microwaved water damages plant growth -
Snopes has a good page on this claim, (which I can't cut and paste from right now, sadly) -
http://www.snopes.com/science/microwave/plants.asp
"Unnecessary daily exposure,"
is a carefully worded distortion, as far as I can tell. Put more specifically, it should be something like -
"...unnecessary daily exposure to radiation IF you stand right next to your microwave every day when it's running, or if your microwave's internal shielding is broken,".
http://www.thedailygreen.com/environmental-news/latest/microwave-radiation-ovens-460709
Further to this, the article relies on a 'study' for it's data on this by Lita Lee (Phd)...Who's website you can find here, selling you 'healing enzymes' -
http://www.litalee.com/shopexd.asp?id=182
Here's another source of info on that claim, for balance, and it destroys a number of the other studies cited in the article which are used to back the
'destroys the nutritional value of food' in the article / meme
-
...like almost every other writer who expounds the microwave myth, includes the story of the Swiss food chemist Hans Hertel. In the late 1980s, Hertel and seven fellow vegetarians locked themselves into a hotel room, where they performed a two-month "experiment" that consisted of eating foods prepared in the microwave and by other means.

After two months of togetherness, Hertel emerged with a terrifying pronouncement: He had found changes that "appear to indicate the initial stage of a pathological process such as occurs at the start of a cancerous condition" in the blood of the men who had eaten microwaved milk and vegetables.

But…

​

None of the men in the study got sick.
The study was never published in a peer-reviewed journal.
Hertel never produced the data
Tthe study has never been replicated.
A sample size of four does not provide any significant information.

Hertel since seems to have disappeared (according to Mercola, a "gag order" from the Swiss government silenced him), but his story is alive and well on the internet.

The second "big name" in the microwave mythology story is James Kopp. Little information is available about his credentials – in most places, he is only described as "a U.S. researcher," but his word has been taken as gospel by true believers. In a 1996 he published an article about the research of Russian scientists into microwaves – which supposedly led to banning microwave ovens in Russia.

http://www.mindfully.org/Food/Irradiate-Microwave-Effects-FoodMay96.htm.

But Kopp disappeared. He changed his name and claimed that microwave oven manufacturers were persecuting him.

​
http://ehealthmd.com/content/microwaved-food-dangerous-myths-and-facts#axzz2NhIw2KtC
The memes 'baby' milk claim
is based on this sole, short term study by Richard Quan -
http://pediatrics.aappublications.org/content/89/4/667.abstract
It refers to a small sample of frozen human (mothers) milk, rather than any baby milk as is implied by theclaim.
It doesn't necessarily follow that this can be applied to all 'baby' milk, and how often do you microwave FROZEN milk anyway?
Still, there is a fact in there at least, though it's disputed by more recent research -
A team based in The Netherlands found that "mature human milk can be stored safely in a freezer and heated in a microwave oven without loss of fat or carotenoids."
In 2003, a Brazilian team found that heating milk to a temperature of 63 degrees C (X F) in a microwave can effectively pasteurize the milk and kill T. cruzi trypomastigotes, the organism that causes Chagas disease.
In 2002, a pair of Spanish researchers concluded that although microwaving breast milk caused longer coagulation times and slower curd formation, "microwave heating was no more detrimental to the milk than conventional heating and could thus be used for pasteurization purposes."

In short, many studies have demonstrated that human breast milk that's been heated in a microwave oven is… well… human breast milk that's been heated in a microwave.

But microwave mythologists still rely on two 20-year-old studies that were poorly designed.​
http://ehealthmd.com/content/microwaved-food-dangerous-myths-and-facts#ixzz2NhWducP5