Oh Dutch, you really WERE right the first time.....
"
At first I thought it might be "bats, birds or bugs
"…
http://dutchsinse.tatoott1009.com/6...ly-weather-modification-via-plume-generation/
Those plumes, were, in fact bats. You were right the first time!
Here's a screenshot of KEVW weather radar, the San Antonio area WSR-88D showing a very distinguishable "donut" shaped anomaly, with multiple other smaller anomalies in the area as well: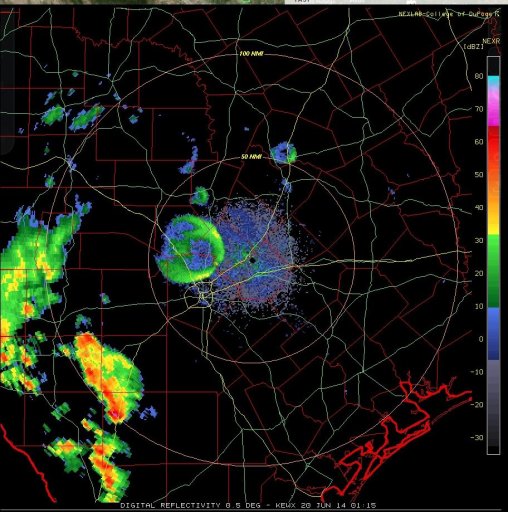 Just so happens, in that same exact area as Dutch's "weather modification", is the Bracken Cave. Bracken Cave is the summer home to the largest colony of bats in the world and this anomaly is typical of what you'd expect to see when the bat colony takes flight.
A nice video here from the San Antonio NWS shows past examples of this phenomenon as seen on their radar. At about the 1:30 mark they start showing bat colonies taking flight.
Map showing the distance between the KEWX radar and the bat cave. Compare this to the above screenshot and note how the anomaly lines up directly with Bracken: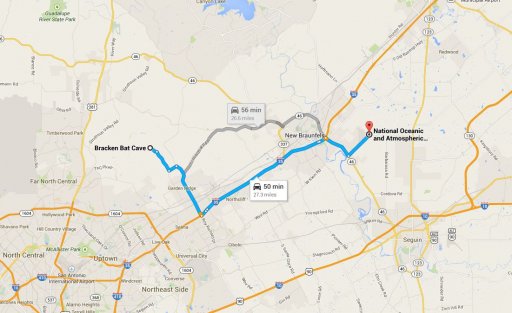 Additionally, the correlation coefficient product (CC) of that anomaly shows a high degree of non-uniformity - EXACTLY as you would expect to see from biological scatterers: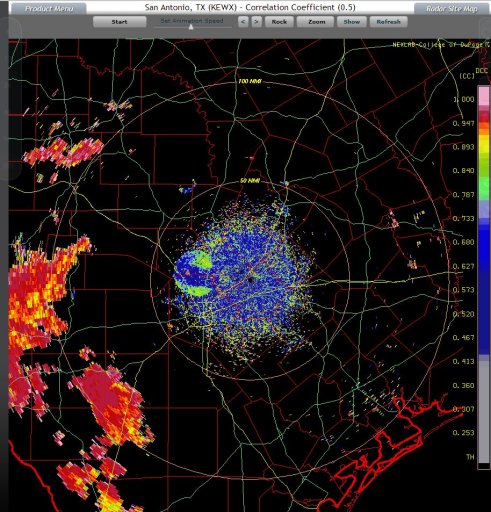 Below is a guide to interpreting CC values on weather radar. See color values associated with biological targets and compare to above image: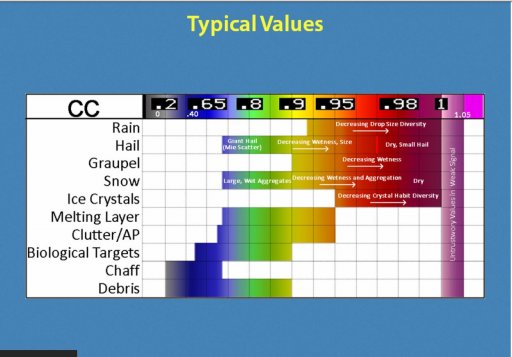 Info on the Bracken Bat Cave:
http://www.batcon.org/index.php/bat...ation&utm_source=external&utm_medium=redirect
Other documented examples of this phenomenon:
http://www.weather.com/news/science/radar-birds-bugs-bats-smoke-20130506?pageno=5
https://www.facebook.com/photo.php?...001.1073741830.145515532200248&type=1&theater
http://www.accuweather.com/en/weather-blogs/weathermatrix/20000000-bats-on-radar/19714
Go with your first instinct next time Dutch, it REALLY was bats this time........
And of course the hydrometer is going to show it as some form of precip. The radar thinks it seeing some form of precip, not animals. VIL is based partially upon the strength of the returned energy (reflectivity). Since all anomalies have some form of reflectivity, they will be added into the VIL. But never mind, I know you all these things already Dutch....