The "Daily Mail" and other publications have
picked up a story
brough up by one "Engineer Pita Witehira".
The Google Maps satellite view of Oke Bay in the North-East of New Zealand allegedly shows an unexplained phenomenon: a long darkish strip resembling a giant snake between two curved lines of wakes.
[...] Mr Witehira also ruled out that a boat was the cause of the wake because there is no white froth like normal wakes created by motors.
However, when zoomed in only slightly more, something like a boat is visible at the tip of the wake. Due to the relatively low detail level of the satellite image in this area
and
the prevailing haze over the water, the features of the boat are not very clear.
(To see it for yourself, search Google Maps for "Oke Bay, New Zealand" and switch to satellite view.)
There are reasonable explanations possible for the other aspects of this "mysterious phenomenon":
1. The lack of froth around the boat can be explained easily by assessing that the boat driver has just slowed down considerably, probably due to the proximity of the rocks. The
angle of the wake edge
is consistent with this conclusion - the boat had clearly been faster before.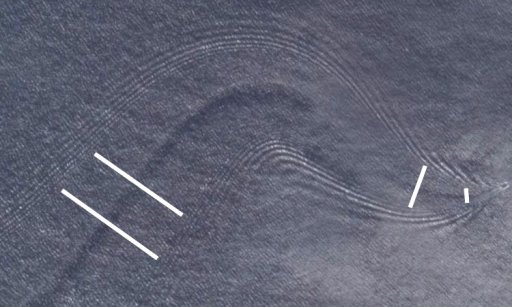 Seawater froth is usually short-lived.
The small size and the (lack of) color might indicate a stylish blue or black jetski, which would be quite capable of quick acceleration, high speed turnings and sudden deceleration, as pointed out by
@scombrid
in the thread below.​
2. There are several possible explanations for the dark trail, some made plausible by the overall very quiet conditions as indicated by the lack of noticeable beach surf:​
- The boat's movement caused an upsetting of sea water layers with suspended particles (e.g. algae), altering the water's reflectivity.

- The boat has created a 'distrail' in the haze that is lingering over the water; the lack of wind made that 'gap' stay on for a while.

- The boat is a jetski with underwater exhaust, leaving a trail of fine bubbles, again changing the reflectivity of the surface.​
There is no good reason to assume anything else than a boat's trail here.
Last edited: