Q-anon supporters are claiming that there have been over 51k sealed indictments filed this year, which they say is an unusually high amount. They claim that the primary target of the sealed indictments are pedophiles.
Currently 51,000 sealed indictments are on the books!!! 1,000 is the average... Research sealed indictments...BIG!!! #NAMBLA running scared!!! No more PING PONG and PIZZA for the PEDOS
Source
The 'proof' for this claim, is a widely circulated chart labeled "Sealed Indictments", that supposedly shows the monthly total of sealed indictments in each district court of the United States.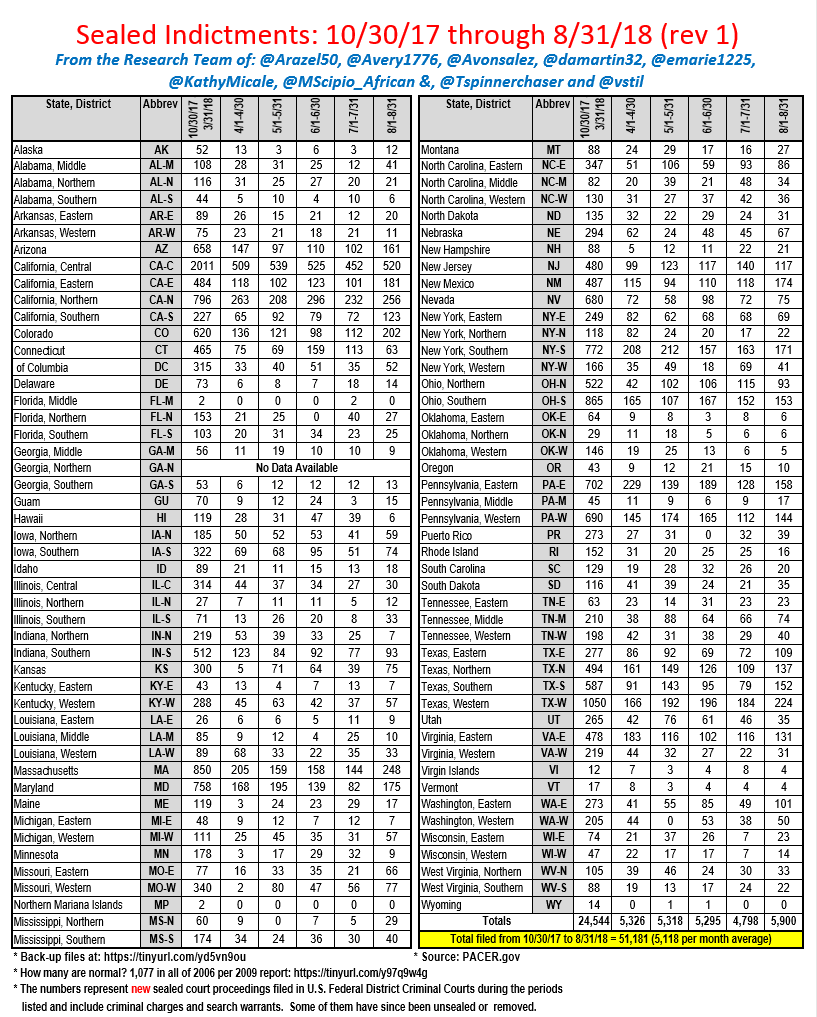 Source
The first problem here is that when a document is sealed, it means nothing about the document is able to be known, INCLUDING whether or not it is an indictment.
This is the only information the PACER database returns for a sealed proceeding:

Source
As you can see, there is no information about 'what' the sealed document is... we only know that it is a sealed document.
This fact is even acknowledged at the bottom of the 50k chart posted above, by this line:
The numbers represent NEW sealed court proceedings filed in the U.S Federal District Criminal Courts
Therefore, it's EXTREMELY misleading to label the chart 'Sealed Indictments'. What the numbers on the chart 'really' represent, are 51k sealed 'PROCEEDINGS', some of which may be indictments.
To determine if the current 51k sealed proceedings is unusual, we need to compare it to something. At the bottom of the 51k chart, they say that a normal year produces 1077 out of all 94 districts combined:
How many is normal? 1077 in all of 2006 per 2009 report
That number comes from pg. 17 of this 2009 FJC report, which analyzed data from 2006. It represents the number of sealed criminal cases with the case type 'criminal'.
We found 1,077 sealed criminal cases among 66,458 criminal cases filed in 2006 (1.6%).
http://www.uscourts.gov/sites/default/files/sealed-cases.pdf
This is the category that contains indictments, and as you can see on the same page, there were 284 sealed indictments within this group in 2006.
We classified the cases according to the predominant reason for their sealing:

• 284 sealed indictments
However, there is a problem using 1077 as a comparison. When you examine the search methods that the current research team is using, they do not limit their search to only criminal cases with the case type 'criminal'. They inexplicably include ALL criminal case types, including miscellaneous, magistrate judge, and many others.
This is a link to the exact search settings they use, which were provided by the research team on their google drive, where they keep all their files. You can see that in step 6, they instruct to leave all settings at default.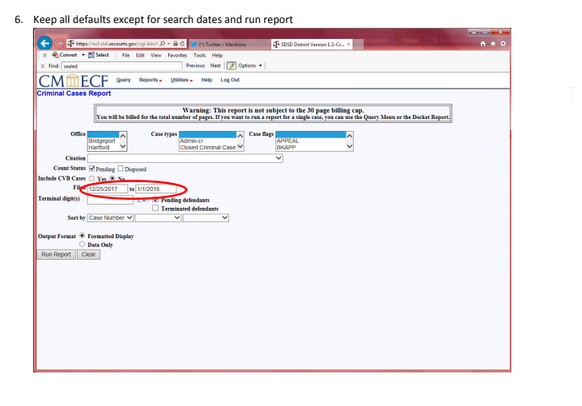 Source
These are all the different criminal case types that a default search includes, from pacer.gov: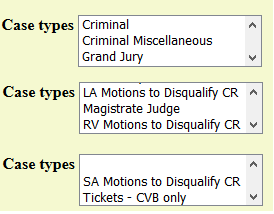 This means that they are comparing two DIFFERENT sets of data: case type 'criminal' vs ALL case types.
If we go back to the FJC report, we can find that it also listed the number of sealed magistrate judge cases (15,177 pg. 21), and sealed miscellaneous cases (8,121 pg. 23) found in 2006. Adding these to 1077, the total number of sealed criminal cases that the report listed was 24,375.
We found 15,177 sealed magistrate judge cases...
We found 8,121 sealed miscellaneious cases...
Source
So the 1077 figure is a
subset
of the 24,375.
To state it plainly:
The research team is comparing a SUBSET from 2006 (1077) to the ENTIRE DATA SET of 2018 (51k). This is a blatantly false comparison.
Now that we have determined what we should 'really' be comparing, we can search PACER for recent history using their exact methods, and compare them to this year.
If you go to the blog post I link at the bottom of this post, I have provided the results of more recent PACER history searches, where you can observe that the numbers we are seeing this year are NOT dramatically higher, like the Qanon team is claiming.
It's easier to just estimate the number of indictments in the current 51k sealed proceedings, using the data from the 2009 FJC report. Even though there are methodology differences between these two studies, this yields a far more accurate result than comparing case count to case count, 12 years apart.
As I explained earlier, the 2009 FJC report listed 24,375 sealed criminal cases, with 284 sealed indictments... that gives us a percentage of 1.2%. If we apply 1.2% to the current 51,181 total, we get 614.
This means that using data supplied by the Qanon research team, we can estimate that out of the current 51,181 sealed proceedings, there would only be 614 sealed indictments.
614 is a HUGE difference from the 51,181 that they claim exist.
Their claim is a mixture of misleading terminology, false comparisons, and 12 year old data. When you break it all down and make accurate comparisons, it becomes quite obvious that there is nothing unusual going on this year.
If you go to the linked post below, you can find much more detailed information, including conversations with the team that makes the chart, the reasoning behind their methods, the flaws that exist within it, and their rebuttal.
This claim is being repeated all over the internet, by thousands of people. If you find this information useful, please share this thread, or my blog post, so that the myth can disappear.
If you have any questions or suggestions, please feel free to post them.
https://wmerthon6.wixsite.com/websi...e-analysis-of-the-50k-sealed-indictment-claim