Administrator
Staff member
The Mars Curiosity Rover has taken tens of thousands of photographs, and in those photographs are millions of rocks. It's inevitable that if you stare at millions of rocks for long enough, then you'll find a rock that resembles something.
In this case it's a pyramid shaped rock. "Life on Mars" fans have been quite enthusiastic about this, with some quite extreme claims:
http://exopolitics.org/nasa-curiosity-rover-photographs-pyramid-on-mars/
It's quite clear why no more photos were taken of the rock, it's just a tiny rock, quite a bit in the distance, that just happened to show up in one photo. One rock out of literally thousands seen within a few minutes. If you look at the wider panorama it's clear it's on a near by hill, and is actually quite small. In fact NASA scientists analyzed the photo, and
determined it was about four inches tall.
And these "pyramids" are not that uncommon on Mars. Here's another one, or maybe two. Look how incredibly straight the edges are, can this possibly be natural?

Actually yes, I joke a little to illustrate the point. Those are just two small rocks in my back yard.
I went outside to see how how easy it was to duplicate the image with just natural rocks and my iPhone. The rocks round here (El Dorado County, California) naturally fracture along straight lines, and the two pieces I propped up were just laying on the ground by the rock formation. And they are about the same size as the Mars rock.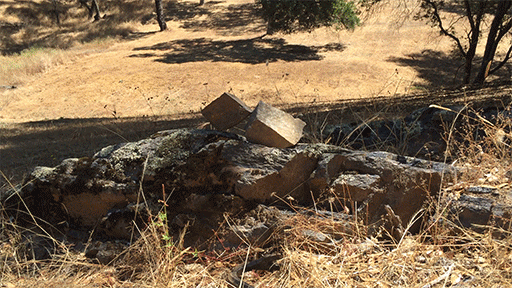 And I didn't even have to pose the rocks, a larger boulder had quite a nice pyramid shape:

Not quite as straight sided as the smaller examples, but remember this is just me wandering around outside for ten minutes. Curiosity has been taking photos for years, and there's a lot more rocks on Mars than there is in my back yard. A small pyramid shaped rock is simply an inevitability.
Last edited: