Pilots for 9/11 truth published the following article claiming that it is impossible for a 767 to achieve the claimed speeds of the WTC attacks, based on the data obtained from the investigation into the Egypt Air 767 Flt 990 crash in November 1999.
The article appears here:
http://pilotsfor911truth.org/wtc_speed
The NTSB report into the crash can be downloaded here:
http://www.ntsb.gov/doclib/reports/2002/aab0201.pdf
The claim from Pilots for 9/11 truth is that the Egypt Air 767 broke up at 22,000 feet whilst descending at Mach 0.99, an EAS (Equivalent Air Speed) significantly less than the EAS postulated for, particularly UA FL175 as it approached the South Tower.
The NTSB report however does not state that the aircraft broke up at 22,000 feet. As the aircraft was descending both engines were shut down by the Relief First Officer, the person suspected of deliberately crashing the 767 (disputed by the Egyptians but not germane to the discussion), and the aircraft was still intact as it went through 17000 feet when both the FDR and CVR lost power due to the engine shutdown. Radar returns then have the aircraft climbing to 25,000 feet where it began another descent, apparently intact till it crashed into the ocean.
At no point in the NTSB report is it suggested that the aircraft broke up in flight.
Furthermore, the so called analysis of the loads on the aircraft neglects to mention that analysis of the FDR has the aircraft at just below 17000 feet, at 485 knots and crucially, experiencing
2.5 G
as the Captain fought to regain control.
Furthermore, the aircrafts dual elevators were at opposite ends of their travel as the Captain pulled the control wheel back, and the First Officer was pushing it forward, introducing a large torsion moment on the tail assembly.
Furthermore, from the FDR the maximum Mach of 0.99 was actually experienced at 29500 feet, not 22,000 feet giving an EAS of 361 knots, 1 knot over VMO.
Here is the FDR data.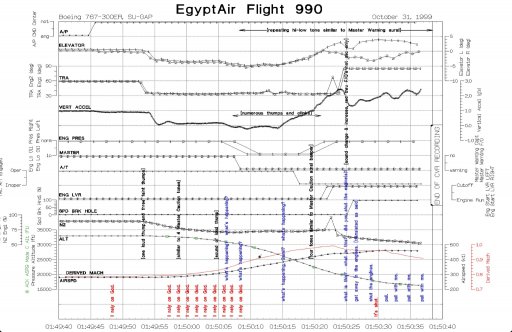 Two facts emerge from this.
1. This 767 airframe underwent a EAS of 462 knots whilst pulling
2.5G
and with
both elevators
at opposite ends of their travel and survived. To say it could survive that and not survive the 1G flight at the speeds of the WTC attacks is not credible.
2. Pilots for 911/truth either did not read the report; couldn't interpret it correctly; or deliberately concocted the breakup/M.99 at 22,000 feet story, to further their own agenda. Take your pick.
For those interested, The NTSB report also contains this paragraph regarding simulations:
Last edited: