Administrator
Staff member
There are several YouTube videos that claim to show cars painted with "Paramagnetic" paint which supposedly used an electrical current to change the color of car paint. Many of these are quite realistic looking, as the camera moves around the car, and only the paint changes color in the scene. Because of the high quality videos, many people, and even some car web sites, have been taken in by the hoax.
In fact it's just a very simple trick in Adobe After Effects, the "Change To Color" effect, where you just have to pick the color you want to change from, and the color you want to change to, and Adobe will do all the rest in a matter of seconds. To animate the color, all you have to do is change the "to" color at different points in the video, and Adobe takes care of that too. It's really one of the simplest things you can do in After Effects.
It took me about fifteen minutes to find a tutorial, and make my own version using a network cable. So long as the object (the car, or the cable in this example) is a unique color, then nothing else is needed.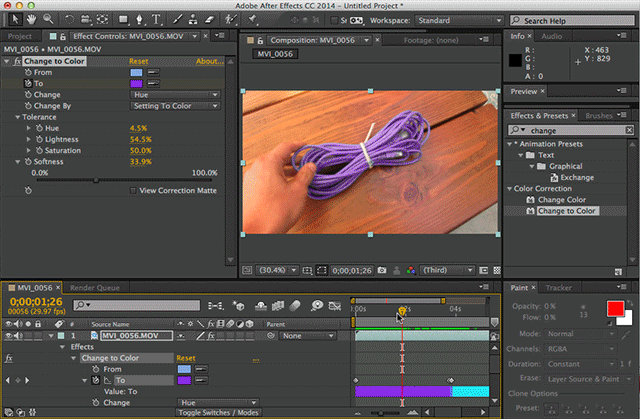 With the end result:
The origin of the hoax dates back to a 2007 article in Motor Authority:
https://web.archive.org/web/2007081...paint-changes-color-at-the-touch-of-a-button/
It's unclear where that original claim came from, however there is a company called "Litcoat" with a
current web site
that claims to be able to sell you a pdf containing the secret of paramagnetic paint. Their process looks rather dubious though, and there's no evidence it actually works.
The only technology that remotely resembles this is
electroluminescence
, where a layer of semiconducting phosphor is sandwiched between two conducting layers, with the top layer being transparent. These layers can be very thin, and
some companies
have been developing methods of painting them onto curved surfaces. It's a fiddly process though, and does not actually change the color of the paint,
just makes it emit some light.
Here's the tutorial by Justin Jimmo. This is just a little more complex as there is a car in the background that is the same color. So that needs masking out. But it still only takes Justin a few minutes.
Last edited: