The claim:
NASA cloud chart is faked, and/or contains "new" cloud names and classifications....in order to cover-up global geoengineering.
http://science-edu.larc.nasa.gov/cloud_chart/
Also claimed, is this "NASA disinfo" is being used to somehow brainwash or assimilate children to believe the images on the NASA site "as real" clouds. It is propaganda from NASA, showing "non-real clouds".
The people who claim this, say that these types of clouds have "never existed" before.
The claims found on the net:
http://www.geoengineeringwatch.org/video-new-nasa-disinformation-cloud-chart-for-schoolchildren/
http://globalskywatch.com/chemtrails/ubbthreads.php?ubb=showflat&Number=831#Post831
....and several other places.
Does the claim hold-up to historical evidence ?
No.
The claim is very intrenched in the idea that "normal clouds are puffy and billowy".....and that most all others are induced by "chemtrails".
Any short research at a library, Google Books, old books, meteorology textbooks, and other resources ....plainly serve as precursors for what is found in/on the NASA cloud pages. In fact, the NASA cloud images are mostly descriptive only....using the higher(est) classifications along with some descriptive words....
Summertime Altocumulus
Edge of Altocumulus Field
Altocumulus during Virginia Summer
Altocumulus during Texas spring
....and so-on...
The chart is not as nearly specific as it could be in it's naming/titles. But after all, the chart is meant for general classification, not specific
Nephology
.
Is the claim a worthwhile debunk ?
Yes and no.
This claim is so very easily proven wrong (and accepted as wrong among most people), that a "debunk" hardly seems necessary. Although I (personally) am seeing it increasingly suggested more and more amongst the chemtrail/geoengineering crowd. In this crowd....it is widely accepted as truth that NASA is lying.
Analogies, in response to the claim:
The believers of this claim often suggest that there are only 6-8 types of "real" clouds....
Cirro
Stratto
Cummulo
Alto
Nimbo
(plus whatever else any grade-school "general science" textbook has the room or interest to include in it's section on atmosphere)
I tried to get the recommended "Earth Science" textbook (high-school version) used in my state (CA) on-line (ebook) but no luck. It seems to be:
http://books.google.com/books?id=NA...&sa=X&ei=5lupUvr2CdXeoATL7IE4&ved=0CC8Q6AEwAA
I wonder how deep it goes into "cloud types" ? I am guessing it's just a basic overview...like this (if even this much.....all top level classifications):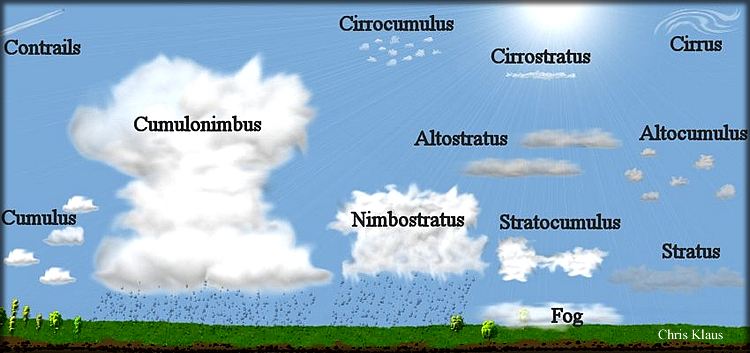 So suspicious people claim something like,
"There are only 7 or-so types of clouds. I can remember that being taught in school. Now suddenly we have NASA telling us there are many more....that's bullshit !"
.....A good analogy (in America) and a reply to their memory and knowledge is asking them, "But you also learned about the indigenous peoples of the Americas - in school, correct ? (the Indians). Can you name
all
the tribes of the Indians ? ....or are only the most common names familiar to you ?
Last edited: