Max Bliss is using this
NACA report
from the 1950's to assert that aluminium can be used in jet fuel.
Apart from an inexplicable reference to the use of centre wing tanks, taken directly from the hoax he fell for in 2013, his posts exhibits classic cherry picking as he ignores the key fundamentals of the report.
1. The report is intended for high speed aircraft using either ramjets or afterburners on turbo-jet aircraft. No current aircraft capable of carrying the weight of aluminium as a spray chemical has either of those sorts of engines.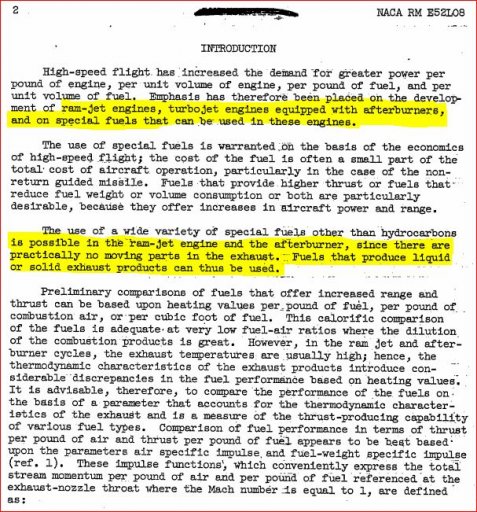 Of note in the second highlighted portion is the reference to the fuel only being suitable for use in ramjets and afterburners as they have practically no moving parts.
The solid nature of the exhaust products of these fuels, Al2O3, has been discussed elsewhere on this forum. Al2O3 is used in sandpaper. It is almost as hard as diamonds. It has no business in a turbo-fan engine. Its use would destroy the turbine blades with catastrophic results.
The report also states the combustion temperature of aluminium.

The R is for the Rankine scale, which is the fahrenheit version of the Kelvin scale. 6163R converts to 3151C. That temperature in a modern turbo-fan engine combustion chamber would result in catastrophic failure of the turbine.
Someone with better chemistry skills than I can calculate how much aluminium oxide could be sprayed via this method as a proportion to the fuel used but I suspect it is trivial.
Max, we know you read this. My suggestion is for you to go and get some education on aviation and meteorology before you make a fool of yourself again. Your technical knowledge is woefully deficient. You quote aspects of the hoax that you fell for as though it didn't happen and as if the debunking community has forgotten. We haven't.
You pointedly refuse to correct others like Jack Baran who also extensively quote the hoax as if it didn't happen and has some basis in fact. It doesn't. It is a total fabrication obviously designed to make you look foolish. I cannot understand why you would perpetuate it.
The photo below is graphic evidence of what happens when a turbine overheats. It was caused by small quantities of engine oil leaking from a pipe, burning and overheating a turbine. It almost killed 450 people save for the skills of some people I know and have flown with.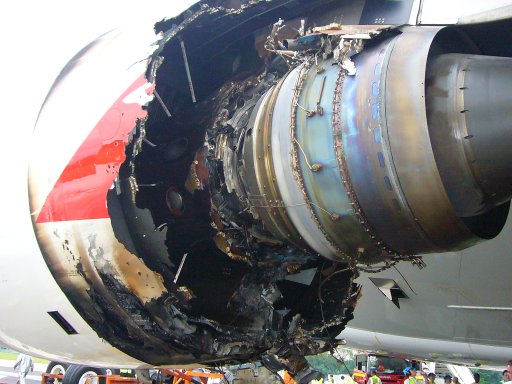 [...]
Last edited by a moderator: