Debunked:
This story is indirectly based on a
2006 paper by the Surveillance Studies Network
, prepared for the
UK Government's Information Commissioner
, that theorized that by 2016 school children might be given a plastic ID card with RFID built in. They did NOT suggest compulsory implanting of anyone. It contains a number of science-fiction-like dystopian scenarios, and is more of a set of pessimistic speculations. The most dire prediction it has for children is about using an RFID card at school:
The primary focus of the report was upon the loss of privacy from the ease of tracking RFID enabled cards, like credit cards and ID cards.
The main discussion of RFID implants was for shopping, and it's not compulsory, the shoppers are offered it as a luxury upgrade.
Recharacterizing this report as some kind of "Mandatory Microchips in Newborns" is a hoax. In fact the public awareness and regulatory safeguards of the situation have actually improved since 2006.
A 2010 update on the report
stated:
And
the update does not mention RFID at all
. It seems like it did not turn out to be the issue that was feared. CCTV, phone tracking, social networks, and biometrics are now discussed as much more realistic and important problems to be addressed.
Newborns do actually get RFID chips in hospitals now. But it's not an implant, it's just an ankle bracelet. Basically an enhanced version of the normal barcoded hospital bracelets. There's a variety of different kinds, active and passive.
But all around the ankle.
And of course it's removed when the baby leaves in a day or two.
http://www.bbc.co.uk/news/business-18193981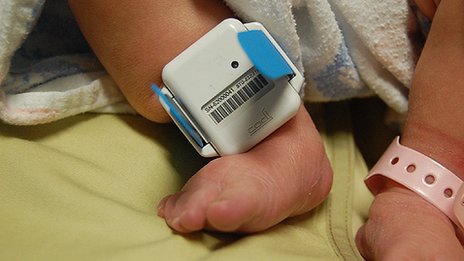 http://www.brenmoor.com/rfid-infaband-125/
(
http://archive.is/bI0hg
)

Some version of this story are now accompanied by a story quoting a Dr Kilde, which actually is a recycling of an unrelated story from 2007, first published in "The Canadian", and repeated in Infowars
http://www.agoracosmopolitan.com/home/Frontpage/2007/01/08/01290.html
(
http://archive.is/OZBiQ
)
http://www.infowars.com/articles/bb/rfid_doctor_plans_microchip_newborns_us_europe.htm
(
http://archive.is/5eYBX
)
[bunk]
Doctor alleges plans underway to "Microchip" Newborns in U.S. and Europe
Compiled by Lucien Desjardins
Regarding plans to microchip newborns, Dr. Kilde said the U.S. has been moving in this direction "in secrecy."
She added that in Sweden, Prime Minister Olof Palme gave permission in 1973 to implant prisoners, and Data Inspection's ex-Director General Jan Freese revealed that nursing-home patients were implanted in the mid-1980s. The technology is revealed in the 1972:47 Swedish state report,
Statens Officiella Utradninger.
[/bunk]
This appear to be a hoax, as it contains stuff which is scientific nonsense:
[bunk]
"Today's microchips operate by means of low-frequency radio waves that target them. With the help of satellites, the implanted person can be tracked anywhere on the globe. Such a technique was among a number tested in the Iraq war, according to Dr. Carl Sanders, who invented the intelligence-manned interface (IMI) biotic, which is injected into people. (Earlier during the Vietnam War, soldiers were injected with the Rambo chip, designed to increase adrenaline flow into the bloodstream.) The 20-billion-bit/second supercomputers at the U.S. National Security Agency (NSA) could now "see and hear" what soldiers experience in the battlefield with a remote monitoring system (RMS).
"When a 5-micromillimeter microchip (the diameter of a strand of hair is 50 micromillimeters) is placed into optical nerve of the eye,", Dr. Kilde indicates "it draws neuro-impulses from the brain that embody the experiences, smells, sights, and voice of the implanted person. Once transferred and stored in a computer, these neuro-impulses can be projected back to the person's brain via the microchip to be re-experienced. Using a RMS, a land-based computer operator can send electromagnetic messages (encoded as signals) to the nervous system, affecting the target's performance. With RMS, healthy persons can be induced to see hallucinations and to hear voices in their heads. "
[/bunk]
And the original source of THAT bunk is the conspiracy site Illuminati News.
http://www.illuminati-news.com/Szymanski051206.htm
(
http://archive.is/4BKZ9
)
And ultimately claims to be a translation of a 1999 Finnish article.
http://www.illuminati-news.com/micro-implants.htm
(
http://archive.is/8tFYz
)
Which is a real article, written by UFO and parapsychology enthusiast Rauni-Leena Luukanen-Kilde 1999, 23 years after she was Chief Medical Officer for
Lapland
(a Province of Finland).
http://en.wikipedia.org/wiki/Rauni-Leena_Luukanen-Kilde
See Post #3 below.
----------------------------------------------------------------------------------------------
The above summary debunking added by @
Mick West
, OP by @
Balance
Follows:
----------------------------------------------------------------------------------------------
https://plus.google.com/ Wlklleaks/posts/ghpJnxiaP2V
^^^Unofficial wikileaks account
Their "source": [which itself has no actual sources]
http://topinfopost.com/2014/01/22/all-european-newborn-babies-will-be-microchipped-from-may-2014
and of course, that stalwart of journalism adds to the flames
http://www.dailymail.co.uk/news/article-413345/Britons-microchipped-like-dogs-decade.html
Last edited by a moderator: