The latest claim from Ian Simpson (Look-up.org.uk) is that on April 12 this year London was hit by "the most obvious aerial spraying this year":
http://www.look-up.org.uk/obvious-aerial-spraying-london-year/
Taking his claims one at a time:
[bunk]As the natural weather improves, pressure goes up and moisture levels drop it seems that the trails are starting to be more visible. Many online commented that this level of activity is unusual. Sadly not, and we often see this frequency of aircraft crossing London leaving persistent trails. There were, however, 2 important differences on Sunday 12th.
1. The air was dry and so there was no induced-cumulus to hide the trails.[/bunk]
No, the air at flight levels was pretty well saturated with moisture over the whole of England. This is the chart for 1pm BST on Sunday April 12th, as shown by the following chart for 1pm BST on that day. This is the zero hour (i.e. real time) forecast from the GFS global weather model, run by the US NCEP.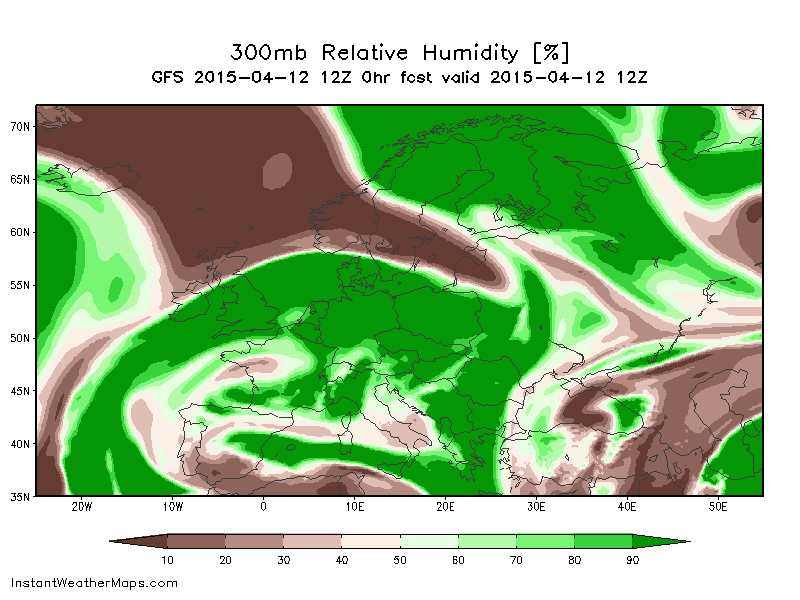 [bunk]2. unusually none of the aircraft we saw spraying were listed on Flightradar24.com. We have screenshots to prove that all of these aircraft were flying over London and not broadcasting any flight data. We believe this is contrary to flight regulations and will be speaking to the CAA about this.[/bunk]
Note that no screenshots were posted. I was not far from London on Sunday and noticed a lot of contrail activity (not as much as over London itself, judging by those photos), and every plane I bothered to check showed up on FR24 just fine.
This plane he has several photos of appears to be in KLM livery:
And KLM doesn't even have any "A320 family aircraft" in its fleet:
http://www.planespotters.net/Airline/KLM-Royal-Dutch-Airlines
The aircraft actually appears to be a Boeing 777. Here's a photo of a KLM Boeing 777 for comparison: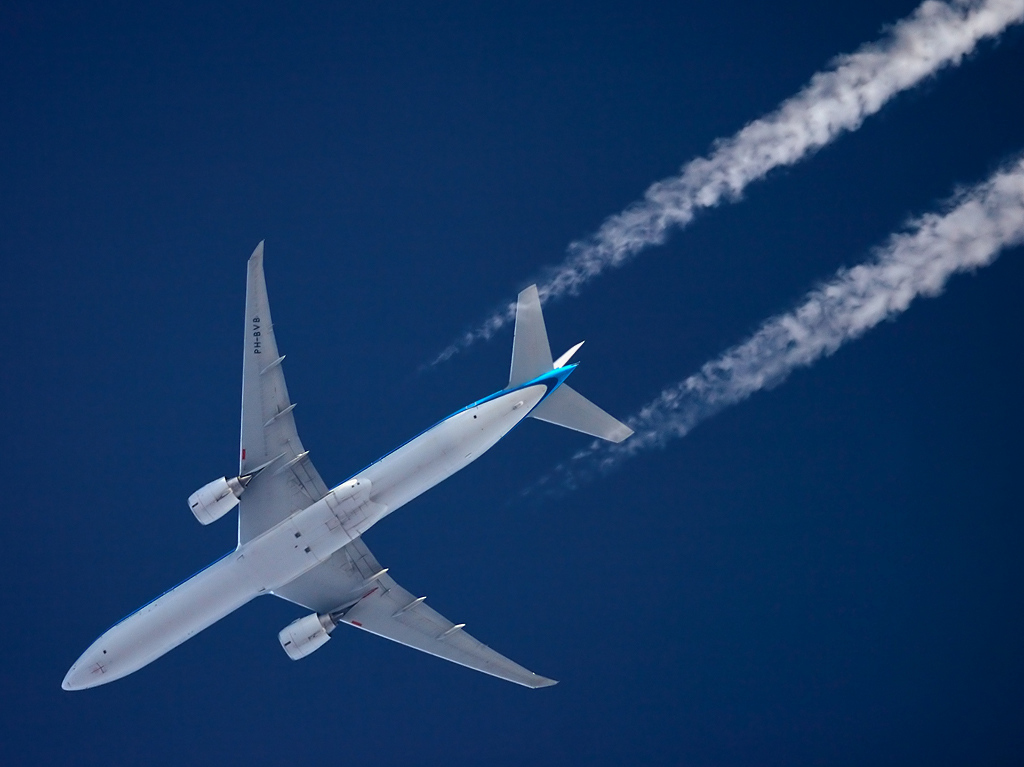 Comparing to Ian's photo, you can see the pale and dark blue stripe pattern on the tail in both:
There's no time or location info on Ian's pictures, other than "London, 12 April", but looking at the lighting, the sun was to the right of the plane. If the photo was taken somewhere near the middle of the day, that suggests the plane was flying roughly eastwards, and to the north of the camera.
A quick look on FlightRadar24 reveals a succession of long-haul KLM 777s flying into Amsterdam from Central and South America, heading roughly eastwards just to the north of London during the morning of April 12. Depending on the exact location of the photos, any of these could be potential candidates.
10:09 BST
10:16 BST:
10:26 BST:
11:18 BST:
[bunk]It is important to note that many of these aircraft are being routed deliberately out of their direct route to their destination so they pass over London.[/bunk]
If the planes are not broadcasting any flight data, then how does Ian claim to know what their direct route should be?
Here is a screenshot from skyvector.com showing the main air routes over England. London is circled, as is Amsterdam.
Clearly, routes from Amsterdam to and from Central and South America will pass over London as a matter of course, as will huge numbers of other flights between American and European/Middle Eastern destinations. I live about 35 miles southwest of London, and witness high volumes of such east-west traffic passing overhead.
Last edited: