Administrator
Staff member
Multiple news outlets are repeating this story,
originally from Reuters
http://www.bbc.com/news/world-middle-east-28466434

A top UN official in Iraq has said the Sunni Islamist group Isis controlling the city of Mosul is seeking to impose female genital mutilation.

All females aged 11 and 46 in the northern city must undergo the procedure, according to an Isis edict, UN official Jacqueline Badcock said.

She said the unprecedented decree was of grave concern.

Some bloggers suggest that the edict, or fatwa, may be a fabrication aimed at discrediting Isis.

The story seems to be just based on this Tweet:
However, it seems to just be a repeat of an older story, from 2013 in Syria
http://justpaste.it/fatwa_debunked
With the "Fatwa" as published in Syria: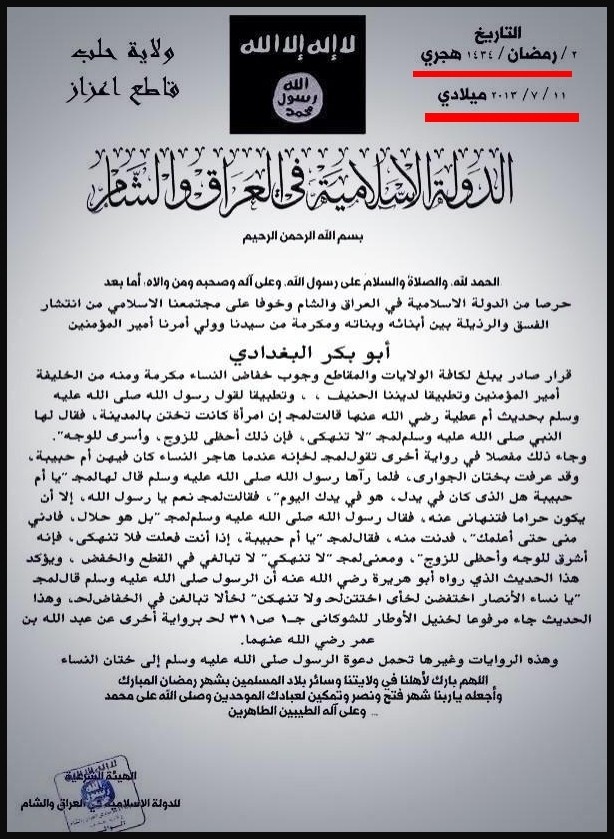 The date was from last year, July 11, 2013 corresponding to 3rd Ramadan and purportedly published in Aleppo Province [of Syria] by the Islamic State under the orders of Abu Bakr Al Baghdad.

Multiple reporters on the ground also describe the story as fake:
So it appear like this is simply old anti-ISIS Syrian propaganda. ISIS themselves have denied it.
See also:
http://thinkprogress.org/world/2014...t-ordering-female-genital-mutilation-in-iraq/
Last edited: