Administrator
Staff member
The iron microspheres (as evidence for thermite) were debunked years ago, but they keep coming up. The bottom line is:
Iron Microspheres form from condensed vaporized iron or from molten iron
You can melt iron by igniting it with a Bic lighter, if the pieces of iron are thin enough.
There are several other sources of iron microspheres
Iron microspheres were expected in the WTC dust
Here's an iron-rich microsphere found by the USGS, who did not consider it at all suspicious:
(it's about 30µm, 0.03mm, in diameter)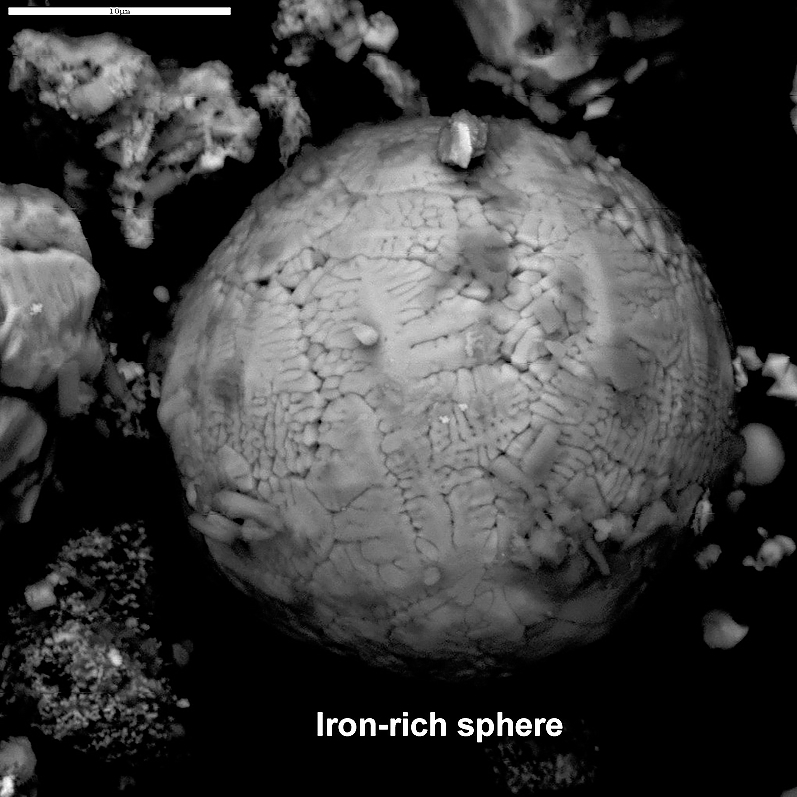 If you ignite some steel wool with a hydrocarbon flame, then you get lots of iron spheres, some of the same size as these microspheres. Note this is not from the flame melting the steel, but from the steel itself burning, and melting itself. This is only possible with a sufficiently large surface area to mass ratio - i.e. with very small or very thin particles.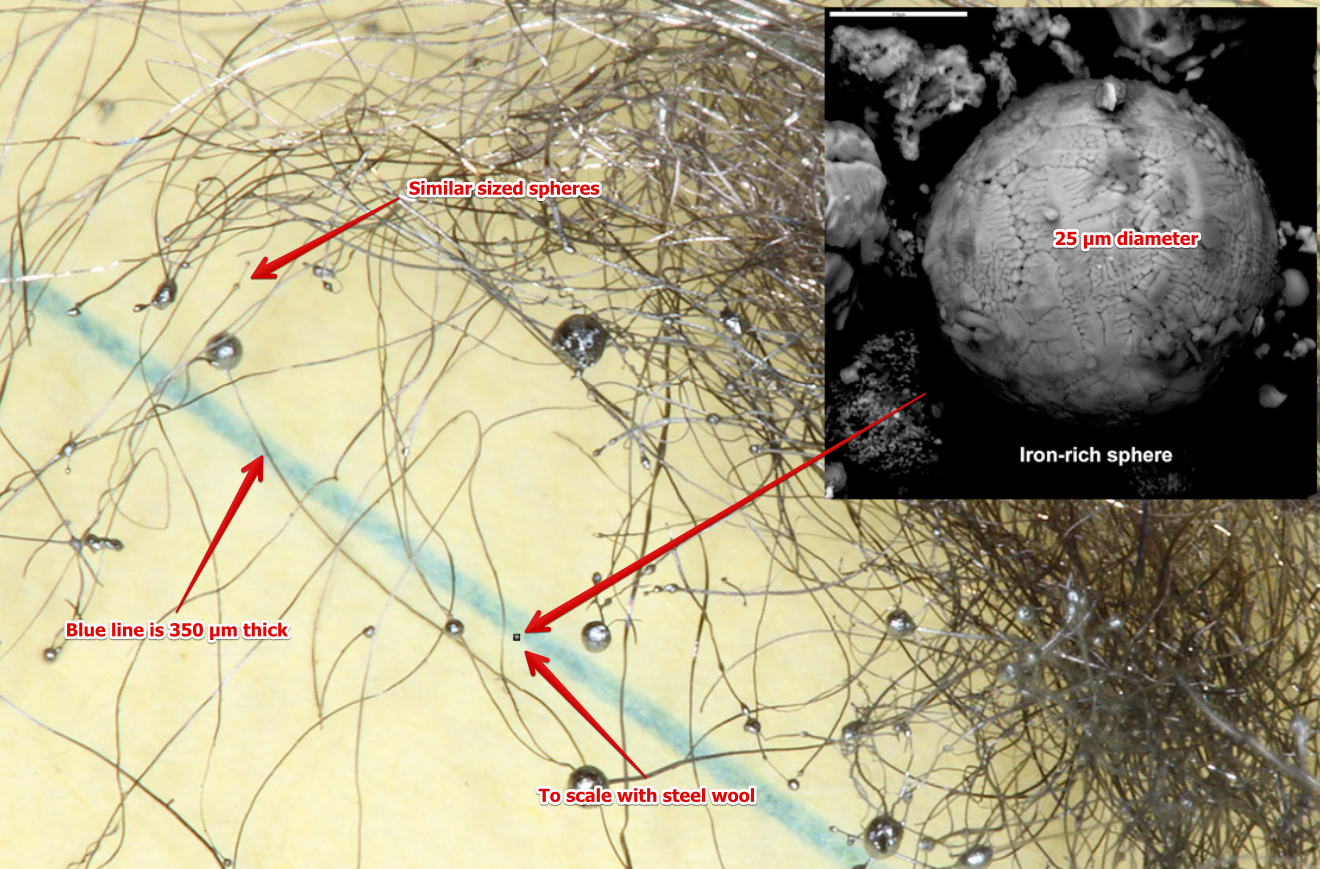 The below debunking is by Dave Thomas of NMSR, JREF, and others. I'm collating it here to allow easier reference via Google, and so we don't have to keep going over the same ground.
http://www.nmsr.org/nmsr911.htm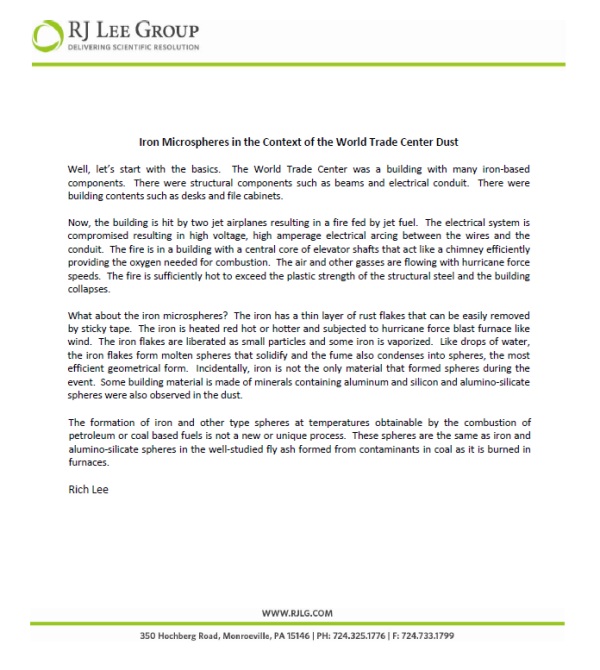 What about the iron microspheres? The iron has a thin layer of rust flakes that can easily be removed by sticky tape. The iron is heated red hot or hotter and subjected to hurricane force blast furnace like wind. The iron flakes are liberated as small particles and some iron is vaporized. Like drops of water, the iron flakes form molten spheres that solidify and the fume also condenses into spheres, the most efficient geometrical form. … The formation of iron and other type spheres at temperatures obtainable by the combustion of petroleum or coal based fuels is not a new or unique process. These spheres are the same as iron and alumino-silicate spheres in the well-studied fly ash formed from contaminants in coal as it is burned in furnaces. – Rich Lee"
The answer to the mystery of the microspheres - "Iron melts only at temperatures far higher than possible in normal fires, so how could microspheres have possibly been formed on 9/11?" – is simply that very small metal particles have much lower melting points than their bulk material counterparts (around 900 o C for iron nanoparticles, as opposed to 1535 o C for bulk iron). This is called the "thermodynamic size effect." The towers contained thousands of computers and electric gadgets. Wires and filaments and meshes from electronics, as well as thin rust flakes and other small iron particles, could all have easily been made into microspheres during the WTC conflagration. To see a vivid demonstration of this phenomenon, watch the video on NMSR's YouTube channel, 'theNMSR', in which a BIC lighter is used to burn steel wool, creating numerous iron microspheres without any Thermite at all!
Another experiment by Dave Thomas, simply burning some beams in a wood fire:
The following is extracted from a JREF forum thread with extensive discussion of the objections. Please read at least the first three pages of that thread to see if your personal objections are covered.
http://www.internationalskeptics.com/forums/showthread.php?t=264234
(archive:
http://archive.is/ypm04
)
Burning some scrap primer painted steel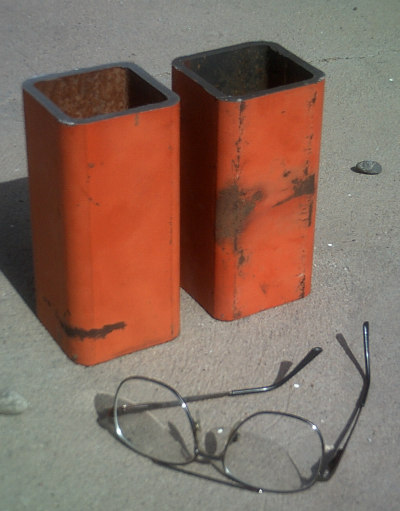 in a wood fire in a barrel: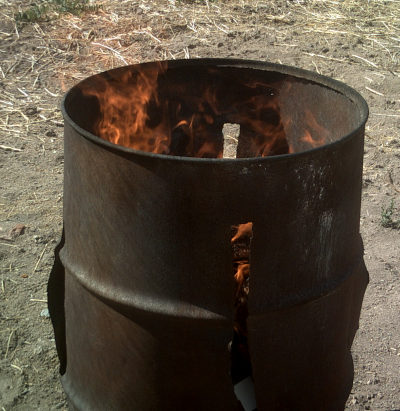 made iron microspheres: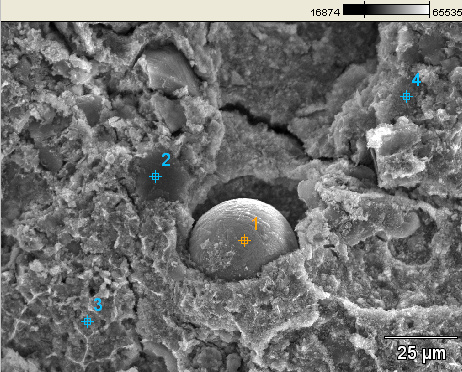 Iron Microspheres can also created from a high energy collision or friction between iron oxide (rust) and aluminum. As seen by
this classic science experiment using two rusty iron cannonballs,
one coated with aluminum foil.
Given the high energy of the collapsing building and the large amount of aluminum cladding in close contact with a large area of steel, then there would certainly be some microspheres created via this mechanism.
---------------------------------------------------------------------------------
Other in-thread references:
RJ Lee Reports:
Other:
Last edited: