Mick, I can't seem to open the posting guidelines, actually almost nothing seems to open. I did manage to get the "whats new' button to work and as it just so happens I've had the following article on my desk top for a bit awaiting an opportunity to go over it more thoroughly. Great article from Gavin Schmidt over on realclimate about global dimming. Gavin was one of the authors of the IPCC who started a great blog if your interested.

See

http://www.realclimate.org/index.php/archives/2005/01/global-dimming/
Yes, Schmidt did write that piece about the BBC documentary on global dimming back in January of 2005. At the time, research showed that some dimming had taken place
between the 1960's and 1990,
fifteen years before
.
But things change.
By May of 2005,
realclimate had reviewed other research recently published
which showed that global brightening had turned the dimming trend around during the preceding decade.
Global Dimming may have a brighter future

Filed under:

)

A while ago, we wrote about

Global Dimming

– a reduction in downward solar radiation of about 4% or about 7W/m2 from 1961 to 1990 was found at stations worldwide. We said at the time that there were hints of a recovery underway post-1990; now research has been published showing this.

From Dimming to Brightening: Decadal Changes in Solar Radiation at Earth's Surface

by Martin Wild et al. (Science 6 May 2005; 308: 847-850; subscription required for link) uses surface measurements;

Do Satellites Detect Trends in Surface Solar Radiation?

by Pinker et al., Science 2005 308: 850-854 uses satellites; both find a recovery of surface downward radiation since about 1990.
So, both ground stations worldwide and satellite measurements had been found to show a brightening after decades of dimming.
Further research has shown that there is a "persistent variability" but an increase in both atmospheric transmission of solar output to the surface and a decrease in
aerosol optical density. The latest figures (2012) show this: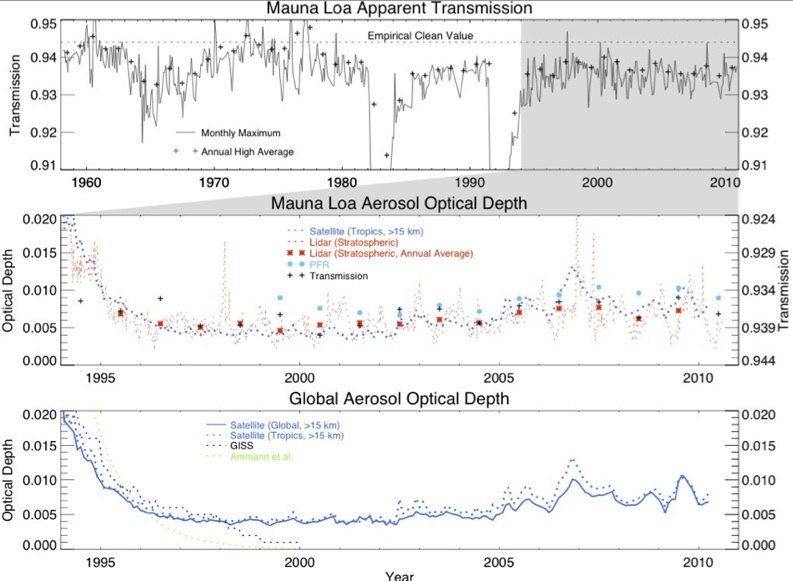 Last edited by a moderator: