Administrator
Staff member
The following fake story claims that world governments have agreed to halt their ongoing geoengineering programs:
http://intellihub.com/2013/06/05/geoengineering-terminated-worldwide/
It's a fake story, and they admit to this down the page:
The main point here is that the Worldwide Geoengineering Conference is fictional. As individuals inhabiting this Earth, we are in control of what we demand control of. Our food, weather, governments and politicians are not autonomous unless we neglect our responcibility to be part of what goes on in our world.

This article is employing a literary device to show that in order to realize what the title is claiming; namely, Geoengineering Terminated Worldwide, each one of us must become involved to make this a reality. It is important to realize that had the title been phrased in any other way, the attention of the reader would probably be lost.
The problem with fake stories, as seen by The Onion, is that people often think they are real. Many people don't read past the headline, or the first paragraph. The text is a little dense with lots of links and scientific words, so 90% of readers are not going to make it to the admission of fakery. Even if they get that far, they might still not even realize it's a fake, as it's phrased rather vaguely.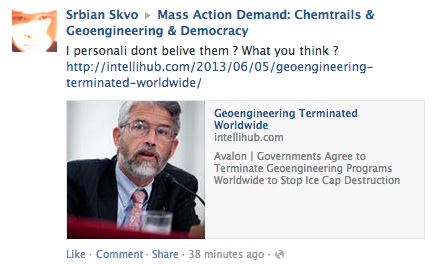 Even with the admissions of fakery, the article is still grossly inaccurate, confusing weather modification (normal cloud seeding) with geoengineering, and claiming geoengineering is ongoing. Cloud seeding is just spraying very small amounts of silver-iodide into clouds to make them rain a bit more. There's no evidence at all of any active geoengineering projects that involve spraying things out of planes.
Last edited: