Administrator
Staff member
The following fake story claims that world governments have agreed to halt their ongoing geoengineering programs:
http://intellihub.com/2013/06/05/geoengineering-terminated-worldwide/
It's a fake story, and they admit to this down the page:
The problem with fake stories, as seen by The Onion, is that people often think they are real. Many people don't read past the headline, or the first paragraph. The text is a little dense with lots of links and scientific words, so 90% of readers are not going to make it to the admission of fakery. Even if they get that far, they might still not even realize it's a fake, as it's phrased rather vaguely.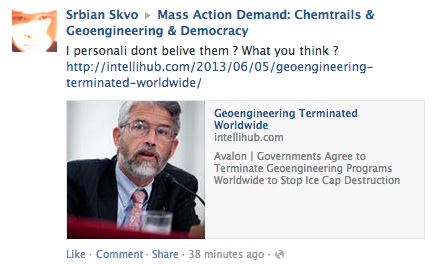 Even with the admissions of fakery, the article is still grossly inaccurate, confusing weather modification (normal cloud seeding) with geoengineering, and claiming geoengineering is ongoing. Cloud seeding is just spraying very small amounts of silver-iodide into clouds to make them rain a bit more. There's no evidence at all of any active geoengineering projects that involve spraying things out of planes.
Last edited: