[Admin: debunked at: http://geigercounter.com/california-beach-radiation-fukushima/ and below]
The recent reports of slightly higher than normal radiation levels on a beach in San Francisco have been investigated by geigercounter.com, and they found that it's naturally occurring radioactive material, like granite. It's demonstrably not from Fukushima, because it has a different signature.
http://geigercounter.com/california-beach-radiation-fukushima/
Here is what we have learned so far: The radioactive areas of the beach seem to be associated with dark sand below the high tide level. The levels detected are about 5 to 10 times what you would normally expect to find on a beach.

The radionuclides are in the

NORM

class of radioactive substances, not from Fukushima. NORM stands for Naturally Occurring Radioactive Material. We put a sample in a Multichannel Analyzer and found Radium 226 and Thorium 232. See the measured spectra below.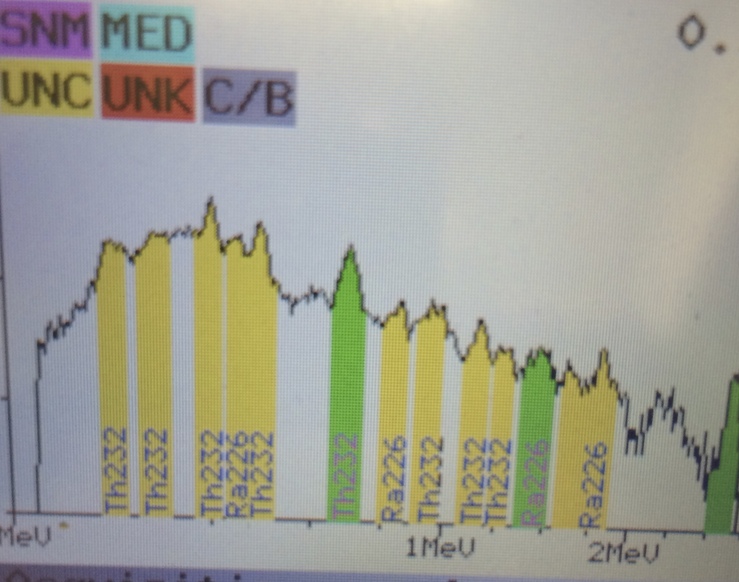 This is the spectra from the beach sample

If the sand were contaminated by radiation from Fukushima it would show Cesium 137. See spectra below from contaminated area of Fukushima Prefecture. The same instrument is identifying Cesium 137 rather than Radium and Thorium.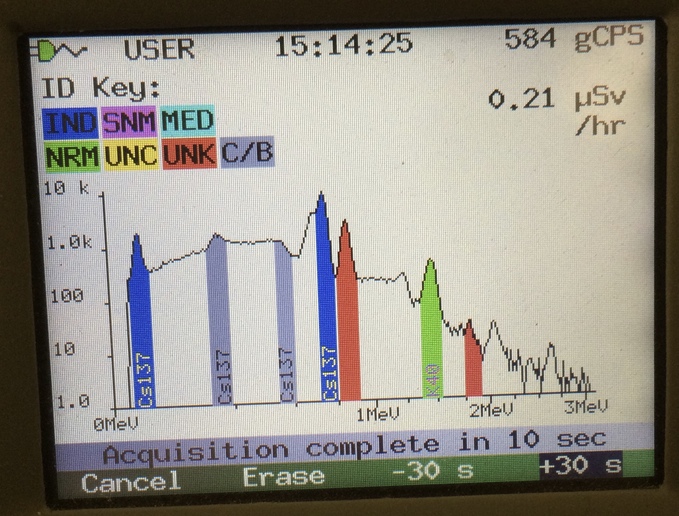 Sample of deck material from contaminated area of Fukushima Prefecture
[/ex]
The picture below is a geiger counter measuring the activity in a sample bag of the sand. The radiation level is elevated, but roughly equivalent to some granite counter top material from Brazil.
... see
http://geigercounter.com/california-beach-radiation-fukushima/
[/ex]
[
Admin: Debunk above added for promoted post, OP Follows
]
I don't know if this is the proper spot to post this but if not I apologize. Recently I have been hearing that Fukishima radiation is reaching the west coast. I feel it is probably bunk, but I wanted to see if anyone else can help break this down and find out if there is any truth to it. Maybe its because this guy was in the sun and the detector picked up more background radiation that way. Mick I know you live in California so I wanted to see what you had to say.
http://www.infowars.com/has-fukushimas-radioactive-wave-already-hit-california/
Days after a YouTube video emerged showing background radiation at a Coastside beach reaching over 150 micro-REM per hour, Health officials in San Mateo County

confirmed the spike

but said they were "befuddled" as to its cause.

However, officials dismissed the possibility that the readings could be linked to Fukushima radiation reaching the west coast despite

forecasts by experts

last summer that radioactive particles from Fukushima would reach U.S. coastal waters in 2014.

The video shows a man measuring radiation readings at different spots on a beach south of Pillar Point Harbor. Background radiation in the areas immediately surrounding the beach are normal, but once the man approaches the water itself, the radiation spikes to at least 500 per cent safe levels and the Geiger counter's alarm goes off.
Of course it's our good friend Alex Jones who is pushing this, and I'm sure there is absolutely no way that he will use this to sell more nascent iodine, he just wants to warn everybody in the world because he cares so much...I'm sure his motives are pure.
Last edited by a moderator: