Administrator
Staff member
Typical usage: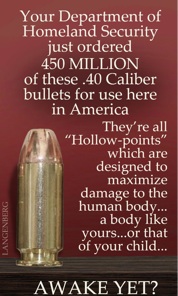 [bunk]Your Department of Homeland Security just ordered 450 MILLION of these .40 Caliber bullets for use here in America. They're all "Hollow-points" which are designed to maximize damage to the human body... a body like yours...or that of your child... AWAY YET?[/bunk]
Firstly, US law enforcement have ALWAYS use hollow-point bullets. They use them specifically for A) Stopping power, and B) to minimize collateral damage. Regular bullets pass through the body leaving a relatively small hole, and do not immediately disable an attacker. They also don't slow down very much, and also similarly pass through walls, and so are much more likely to hit someone else.
But the key thing here is the numbers. The suggestion being that this is an unusually large number of bullets. The number comes from the company that was awarded a contract:
http://atk.mediaroom.com/index.php?s=25280&item=124123
So the first thing to notice here is that it's not an order for 450 million bullets. It's a contract to supply, with a MAXIMUM volume of 450 million rounds over FIVE YEARS.
So really it's a contract to supply
up to
90 million bullets a year.
It's also not just the DHS. It's the DHS and the Immigration and Customs Enforcement.
But the thing that this hoax ignores is that the vast majority of rounds fired are NOT fired at people. They are fired during training and practice. A DHS officer going through basic firearms training will fire over a thousand rounds. Officers are also required to qualify with their weapon every year accounting for a few hundred rounds, and will often go though additional firearms training programs, each of which can use over a thousand rounds.
Here's a DHS slide on just some of their ammunition usage: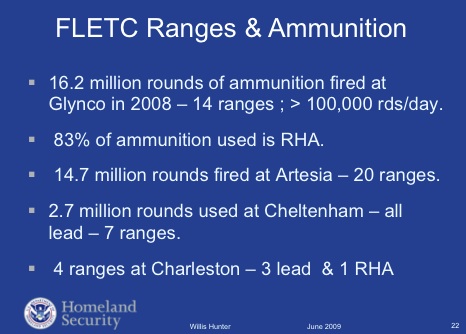 See also:
http://www.politifact.com/texas/sta...email-says-homeland-security-purchasing-many/
[UPDATE - Government confirms it's mostly for training]
http://www.foxnews.com/politics/201...ent-homeland-security-buying-so-many-bullets/
Last edited: