Administrator
Staff member
Typical usage: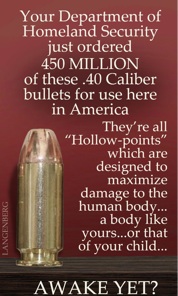 [bunk]Your Department of Homeland Security just ordered 450 MILLION of these .40 Caliber bullets for use here in America. They're all "Hollow-points" which are designed to maximize damage to the human body... a body like yours...or that of your child... AWAY YET?[/bunk]
Firstly, US law enforcement have ALWAYS use hollow-point bullets. They use them specifically for A) Stopping power, and B) to minimize collateral damage. Regular bullets pass through the body leaving a relatively small hole, and do not immediately disable an attacker. They also don't slow down very much, and also similarly pass through walls, and so are much more likely to hit someone else.
But the key thing here is the numbers. The suggestion being that this is an unusually large number of bullets. The number comes from the company that was awarded a contract:
http://atk.mediaroom.com/index.php?s=25280&item=124123
ATK Secures .40 Caliber Ammunition Contract with Department of Homeland Security, U.S. Immigration and Customs Enforcement (DHS, ICE) ATK WINS FIVE-YEAR, INDEFINITE DELIVERY/INDEFINITE QUANTITY CONTRACT FOR .40 CALIBER AMMUNITION FROM DHS, ICE ADDITIONAL .40 CALIBER AMMUNITION CONTRACT WITH 450 MILLION ROUND POTENTIAL DEMONSTRATES ATK'S LEADERSHIP IN AMMUNITION MANUFACTURING

Mar 12, 2012

ANOKA, Minn., March 12, 2012 /PRNewswire/ -- ATK (NYSE: ATK) announced that it is being awarded an Indefinite Delivery/Indefinite Quantity (IDIQ) agreement from the Department of Homeland Security, U.S. Immigration and Customs Enforcement (DHS, ICE) for .40 caliber ammunition. This contract features a base of 12 months, includes four option years, and will have a maximum volume of 450 million rounds.
ATK was the incumbent and won the contract with its HST bullet, which has proven itself in the field. The special hollow point effectively passes through a variety of barriers and holds its jacket in the toughest conditions. HST is engineered for 100-percent weight retention, limits collateral damage, and avoids over-penetration.
"We are proud to extend our track record as the prime supplier of .40 caliber duty ammunition for DHS, ICE," said Ron Johnson, President of ATK's Security and Sporting group. "The HST is a proven design that will continue to serve those who keep our borders safe."
ATK will produce the ammunition at the Federal Cartridge Company facility in Anoka, Minn. Deliveries are expected to begin in June.

​
So the first thing to notice here is that it's not an order for 450 million bullets. It's a contract to supply, with a MAXIMUM volume of 450 million rounds over FIVE YEARS.
So really it's a contract to supply
up to
90 million bullets a year.
It's also not just the DHS. It's the DHS and the Immigration and Customs Enforcement.
But the thing that this hoax ignores is that the vast majority of rounds fired are NOT fired at people. They are fired during training and practice. A DHS officer going through basic firearms training will fire over a thousand rounds. Officers are also required to qualify with their weapon every year accounting for a few hundred rounds, and will often go though additional firearms training programs, each of which can use over a thousand rounds.
Here's a DHS slide on just some of their ammunition usage: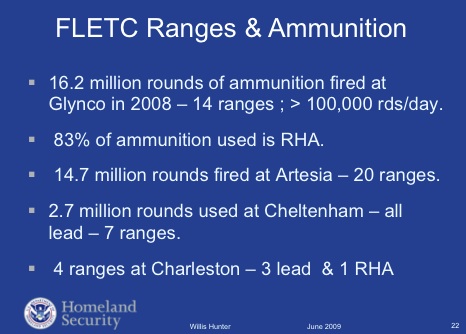 See also:
http://www.politifact.com/texas/sta...email-says-homeland-security-purchasing-many/
Finally, we talked through the information provided by Homeland Security with Magers who said he believes the arranged-for rounds could be used by domestic law enforcement officers on duty, in training and in keeping their skills up. "Not only does every officer carry ammunition on their body and in close proximity, but every so often ... they are required to go out and qualify with that weapon. Any one officer is going to account for a lot of rounds in a year," Magers said. Also, he said, rounds get cycled out as officers ensure their equipment is ready when needed.

"On its face, the type of ammunition and the amount of ammunition over a five-year period of time doesn't sound extraordinarily excessive," Magers said.
[UPDATE - Government confirms it's mostly for training]
http://www.foxnews.com/politics/201...ent-homeland-security-buying-so-many-bullets/
Federal solicitations to buy the bullets are known as "strategic sourcing contracts," which help the government get a low price for a big purchase, says Peggy Dixon, spokeswoman for the Federal Law Enforcement Training Center in Glynco, Ga . The training center and others like it run by the Homeland Security Department use as many as 15 million rounds every year, mostly on shooting ranges and in training exercises.

Dixon said one of the contracts would allow Homeland Security to buy up to 750 million rounds of ammunition over the next five years for its training facilities. The rounds are used for basic and advanced law enforcement training for federal law enforcement agencies under the department's umbrella. The facilities also offer firearms training to tens of thousands of federal law enforcement officers. More than 90 federal agencies and 70,000 agents and officers used the department's training center last year.



Last edited: