Administrator
Staff member
This claim comes via Alex Jones, and Natural News. It's bunk, and of course it is linked to ads for the "health" products they are selling: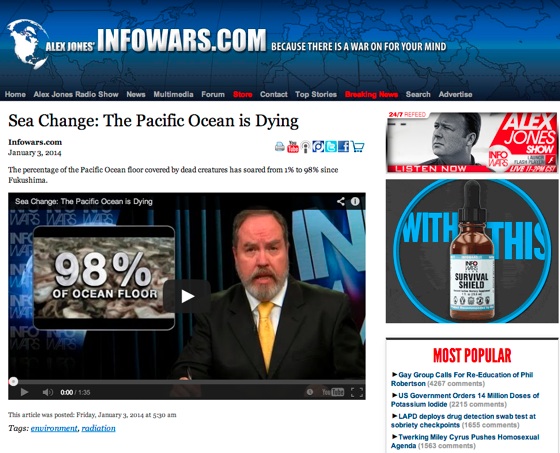 The description on the YouTube video is:
Natural News' take:
http://www.naturalnews.com/043380_Fukushima_radiation_ocean_life.html
Reality: It was a brief localized surge in deposition of salp poop and bodies, in a 20 foot square, related to global warming, unrelated to Fukushima.
Salp are a kind of jellyfish with a pseudo-backbone. Their feces and bodies are an important part of the ocean's carbon cycle, which relates to climate change. So changes in salp poop deposition are studied by scientists.
http://en.wikipedia.org/wiki/Salp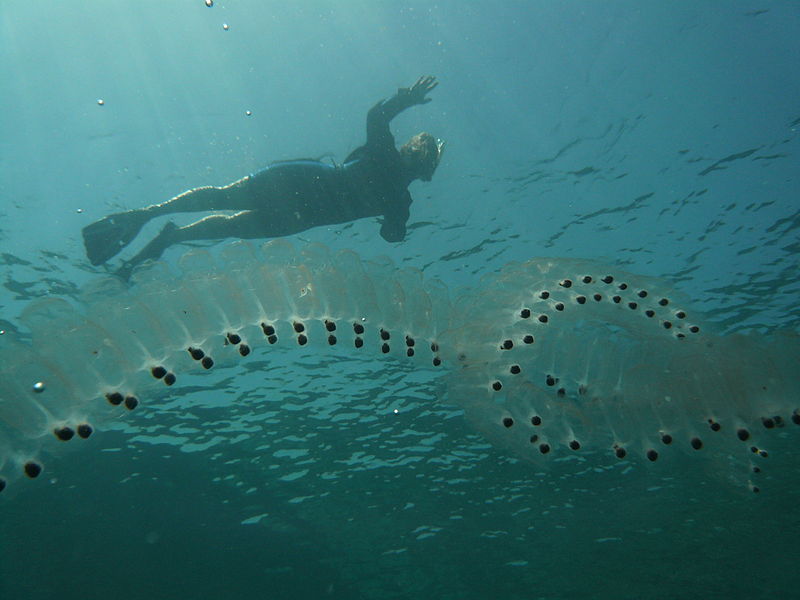 The referenced study is:
http://www.pnas.org/content/early/2013/11/05/1315447110
(pdf attached)
You can already see the story is not being reported at all accurately by Jones, et al.
The study is nothing to do with Fukushima
, and instead is about the effects of global warming on the ocean.
Fukushima happened in March 2011. The Figures of 1% and 98% simply relate to a seasonal surge of salp detritus (mostly fecal matter and the dead bodies of
salps
) at one spot that happened a year later. Important to note that the 1% figure was also a year
after
Fukushima.
And the area of the sea floor is just one small region under a camera:
So this measurement has nothing to do with die-offs, nothing to do with dead creatures littering the sea floor, nothing do do with Fukushima. It's to do with surges in the amount of carbon produced in the upper oceans, how this relates to climate change. And it's about how this created a temporary surge in salp poop in one area about 20 ft x 20 ft.
Last edited: