Administrator
Staff member
This claim comes via Alex Jones, and Natural News. It's bunk, and of course it is linked to ads for the "health" products they are selling: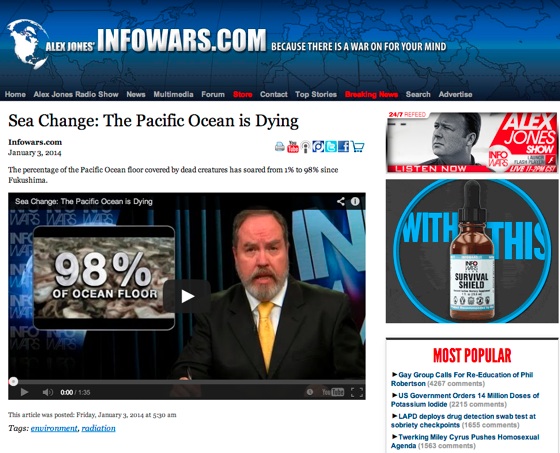 The description on the YouTube video is:
The percentage of the Pacific Ocean floor covered by dead creatures has soared from 1% to 98% since Fukushima.


INFOWARS LIFE-MAKE A HEALTHY CHANGE TODAY!
http://www.infowarsshop.com/-Infowars...
Fluoride Shield** NEW ITEM
Super Male Vitality** NEW ITEM
Survival Shield - Nascent Iodine** NEW ITEM
Patriot Blend 100% Organic Coffee** NEW ITEM
Immune Support Blend 100% Organic Coffee** NEW ITEM
[[HERBAL SURVIVAL KIT]]** NEW ITEM
contains herbal remedies for the most common survival ailments.
http://www.infowarsshop.com/Herbal-Su...
[[INFOWARS MAGAZINE]] DECEMBER ISSUE**
http://www.infowarsshop.com/-Infowars...
[[INFOWARS HEALTH]]-START GETTING HEALTHY BEFORE IT'S TOO LATE
http://infowarshealth.com/


Natural News' take:
http://www.naturalnews.com/043380_Fukushima_radiation_ocean_life.html
The Pacific Ocean appears to be dying, according to a new study recently published in the journal

Proceedings of the National Academy of Sciences

. Scientists from the Monterey Bay Aquarium Research Institute (MBARI) in California recently discovered that the number of dead sea creatures blanketing the floor of the Pacific is higher than it has ever been in the 24 years that monitoring has taken place, a phenomenon that the data suggests is a direct consequence of nuclear fallout from Fukushima.

Learn more:

http://www.naturalnews.com/043380_Fukushima_radiation_ocean_life.html#ixzz2pM7IrIB6
Reality: It was a brief localized surge in deposition of salp poop and bodies, in a 20 foot square, related to global warming, unrelated to Fukushima.
Salp are a kind of jellyfish with a pseudo-backbone. Their feces and bodies are an important part of the ocean's carbon cycle, which relates to climate change. So changes in salp poop deposition are studied by scientists.
http://en.wikipedia.org/wiki/Salp
Sinking fecal pellets and bodies of salps carry carbon to the sea floor

, and salps are abundant enough to have an effect on the ocean's

biological pump

. Consequently, large changes in their abundance or distribution may alter the ocean's

carbon cycle

, and potentially play a role in

climate change

.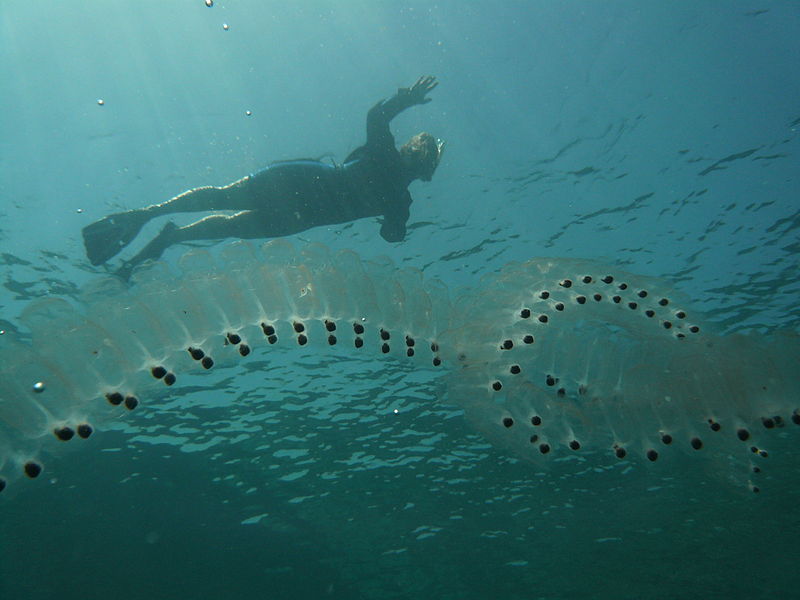 The referenced study is:
http://www.pnas.org/content/early/2013/11/05/1315447110
(pdf attached)

Deep ocean communities impacted by changing climate over 24 y in the abyssal northeast Pacific Ocean

The deep ocean, covering a vast expanse of the globe, relies almost exclusively on a food supply originating from primary production in surface waters. With well-documented warming of oceanic surface waters and conflicting reports of increasing and decreasing primary production trends, questions persist about how such changes impact deep ocean communities. A 24-y time-series study of sinking particulate organic carbon (food) supply and its utilization by the benthic community was conducted in the abyssal northeast Pacific (∼4,000-m depth). Here we show that previous findings of food deficits are now punctuated by large episodic surpluses of particulate organic carbon reaching the sea floor, which meet utilization. Changing surface ocean conditions are translated to the deep ocean, where decadal peaks in supply, remineralization, and sequestration of organic carbon have broad implications for global carbon budget projections.

You can already see the story is not being reported at all accurately by Jones, et al.
The study is nothing to do with Fukushima
, and instead is about the effects of global warming on the ocean.
Fukushima happened in March 2011. The Figures of 1% and 98% simply relate to a seasonal surge of salp detritus (mostly fecal matter and the dead bodies of
salps
) at one spot that happened a year later. Important to note that the 1% figure was also a year
after
Fukushima.
The daily presence of detrital aggregates on the sea floor did not exceed 15% coverage over the period from 1990 to 2007. Detrital aggregates showed distinct seasonal variation, reaching the highest peaks in the summer of 2002 (< 15% cover), fall of 1994 (< 14% cover), and summer and fall of 2001 (<8% cover) (Fig. 1E). The highest sea-floor coverage by detrital aggregates measured throughout the 24-y time series occurred between March and August 2012, when salp detritus ranged from <1% cover in early March to a high of 98% cover on 1 July (Fig. 1E). This was the only measurable deposition event of salps observed during the entire time series. Following this salp pulse, phyto- detrital aggregates combined with some salp detritus formed another major deposition event beginning in late August and peaking in mid-September. This pulse covered up to 61% of the sea floor (Fig. 1E), the largest primarily phytodetrital aggregate peak recorded during the time series. Highs in relative sea-floor fluorescence accompanied both of these depositional events (Fig. 1E). The pulse of Rhizosolenia detected by the sediment traps in 2011 was not apparent in the time-lapse photographs because there were no large aggregations with dissimilar color- ation from the background sediment.

And the area of the sea floor is just one small region under a camera:

Given these data, we are referring to the salps on the sea floor of Station M. as Salpa spp. Although the biomass of net- sampled salps in surface waters near Station M was high in 2012, comparable levels were reported in previous decades (8).

A camera tripod at the base of the sediment trap mooring documented detrital aggregates in hourly photographs of the sea floor, and these images were analyzed using a Canadian grid system to estimate aggregate percent cover (9).

....

There was considerable variability in the EDR generated by Distance 4.1, leading to effective viewed areas ranging from 13 to 32 m2

So this measurement has nothing to do with die-offs, nothing to do with dead creatures littering the sea floor, nothing do do with Fukushima. It's to do with surges in the amount of carbon produced in the upper oceans, how this relates to climate change. And it's about how this created a temporary surge in salp poop in one area about 20 ft x 20 ft.
Last edited: