(ADMIN NOTE - This initial post has been edited to represent a more concise history of the thread's discussion and conclusions).
There have been a series of talks in the UK since April 2013 on chemtrails and geoengineering with one David Lim as a star speaker, first discovered via facebook's
Portsmouth Geoengineering and Agenda 21 awareness
tour group -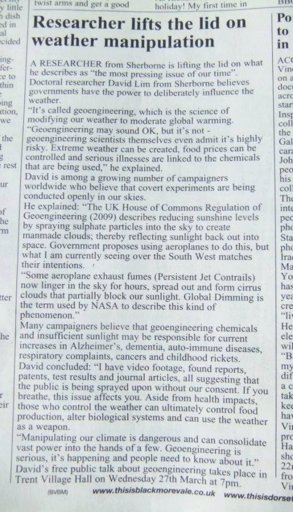 It's taken from the
Blackmore Vale magazine
, which is an ad-supported periodical under the
This is Dorset
banner.
Here's an example of David Lim's presentation on Youtube -
David suggests from 23:00 that an aircraft contrail which persists and spreads out should be distinguished from one which does not, and as such those that act this way are ongoing geoengineering spraying. This is a central plank of the chemtrail conspiracy theory and is incorrect, as this
debunking article explains
. To my mind this immediately invalidates much of the presentation.
In general, another central claim of the presentation is that geoengineering is ongoing in the UK and elsewhere. This would be detectable if it were the case, as this
debunking thread on the matter explains.
At approximately 11:00, David refers to a UK government document which discusses the regulation of geoengineering. The relevance of this document to the claim that geoengineering is ongoing in the UK
is debunked here
.
There are many other disputed claims throughout the presentation, these are just some examples.
The presentation also references some of the major figures in perpetuating chemtrail bunk as 'researchers' at 1:22:00, including Michael J. Murphy (
work by whom is debunked here
), Dane Wigington (
some recent claims debunked here
, and historically elsewhere on Metabunk), and G.Edward Griffin (one of his claims is
debunked here
, via
this post
).
CPUK (Chemtrails Project UK) is also mentioned in the list. Their work and some dubious claims are
discussed/criticised here
.
Finally, t
he Youtube user hosting this video, believed to be David Lim himself, has been caught out deleting questions from the channel comments which challenge the claims in the presentation.
Moving on from the presentation and
according to a metabunk user
, David Lim has suggested in correspondence that:
"...air quality testing for metal particulates is only at its infancy in the UK,".
This claim is suspect as the UK has a
relatively sophisticated pollution monitoring network
. The way in which this relates to testing of rain and snow in the US which the work of some of David's 'researchers' cite as support for their conclusions about chemtrail activity, is discussed extensively in this thread
from this point
.
Last edited by a moderator: