I came across the following quote a few time in various places:
The quote is often accompanied with the following image: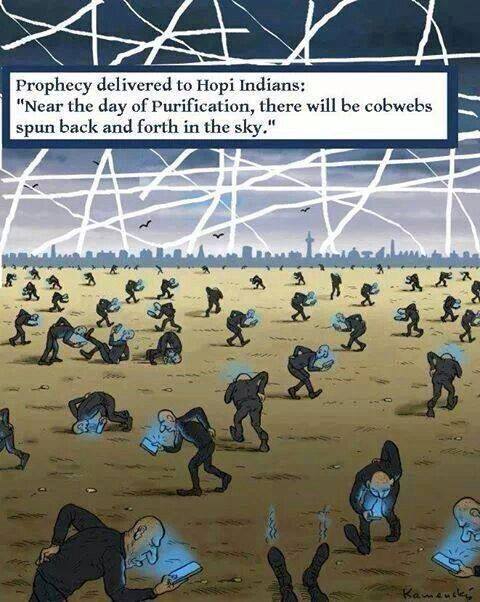 Source:
http://talesfromtheconspiratum.com/...ll-be-cobwebs-spun-back-and-forth-in-the-sky/
The times I have seen the quote / image it has always been in relation to the chemtrail theory.
I was curious about this quote, even though I do not personally myself put much value in prophecies. I know that a lot of believers apparently think quotes like the above has great significance.
I did a quick google search and found a few pages which wrote the following:
Source:
http://www.ahastories.com/hopiprophecy.html
Source:
http://www.angelfire.com/music2/fullcircle/PropheciesStudy.html
After spending some time google various versions of the quote, I came close to what I thought could be a possible source.
Source:
http://www.welcomehome.org/rainbow/prophecy/hopi2.html
The above-mentioned speech from 1986 is on youtube:
Part 1
Part 2
Part 3
Part 4
Part 5
So, judging from this, the cobweb is a metaphor for the telephone. Hereafter he talks about WW2, it does not seem like anything about Judgement Day, Ragnarok, Armageddon or the Apocalypse is mentioned anywhere, same goes for contrails or airplanes.
The only earlier version of the quote I have been able to find is from the movie Koyaanisqatsi (1982).
Source:
http://en.wikipedia.org/wiki/Koyaanisqatsi
I have not been able to find anything about where the filmmaker got his quotes from, unfortunately.
Warning: Subjective analysis
As mentioned, I have not been able to find any sources which shows the true origin of the prophecy. Nothing except modern books on the apocolypse showed up in Google Books, I am however not that experienced in using Google Books to find sources. The earliest entries I have found was a speech by Lee Brown in 1986 and the movie Koyaanisqatsi from 1982.
Based on what is available, I am highly doubting the quote to of ancient origin. I expect the quote to be from the early to mid 1900s, presumable during or after WW2. I think that the quote is less of an prophecy and more likely to be a story of WW2 told during or after. It is, however, also possible it is based on an ancient prophecy, but strongly altered to fit the scenario.
Does anybody know more about this quote?