Administrator
Staff member
This video
​
And this web site:
http://www.watchthesky.org/chems/chemdata.htm
Proport to shows "chemtrails" on weather radar - and notes that cirrus clouds don't generally show up on weather radar, and that these clouds are too low to be contrails - hence MUST be chemtrails.
The problem with this theory is that the radar is operating in "clear air mode", a highly sensitive mode that tends to give results just like that, with no real need for anything visible in the air. Note the scale here only goes up to +28 db. Real clouds get picked up on the radar in the range 30-60+ db.
http://www.theweatherprediction.com/habyhints/239/
Clear air mode can also be used to locate frontal boundaries and mesoscale frontal boundaries such as outflow boundaries, sea breeze fronts and drylines. A sharp moisture and/or temperature gradient in the troposphere sets up an interface of higher reflectivity (an example is to think of skipping rocks on water, the rock is reflective as it hits the boundary between the air and water). In a case where rapid refraction occurs, some of the energy will backscatter. Also, convergence occurs along frontal boundaries. Dust and insects tend to convergence along synoptic and mesoscale frontal boundaries. These increased regions of bugs and dust allow for a higher return on clear air mode thus allowing for the detection of these boundaries.
http://www.desktopdoppler.com/help/FAQs.htm
In Clear air mode, the radar sensitivity is increased and it can detect dust, fog, temperature inversions and other atmospheric disturbances that are not precipitation related. When the radar detects precipitation again, it automatically switches back to PRECIPITATION mode.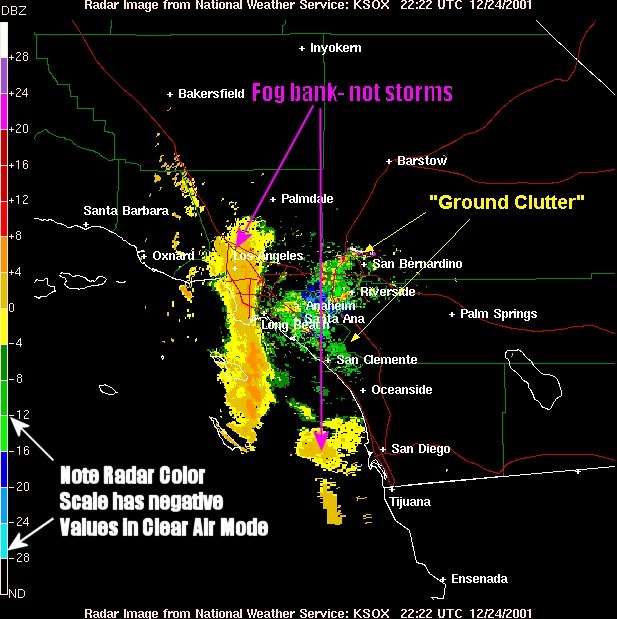 So no,
this is not showing contrails or clouds. It showing any one of the various things that clear-air radar can pick up
.
Another strike against this theory is that NONE of the "trails" shown on the radar are actually long thin trails. The thinnest part of the phoenix trails are five miles wide, and most are 20+ miles wide (and more like blobs than trails).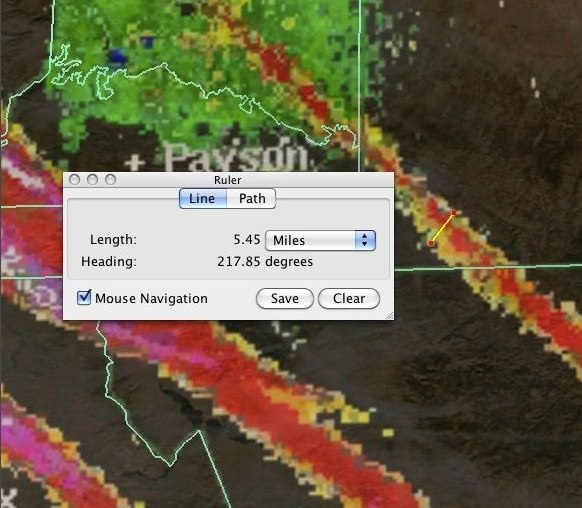 So if were were getting this much of a radar return for a trail that has spread to 20 miles wide, then surely we'd get a searing white hot straight line trail before this, when the initial "chemtrail" is laid down it's only a few hundred feet wide, so if it turns into what we see above, it would start out at 100x the density, and be practically solid to the radar.
But no,
the trails apparently leap into existence fully formed, 300 miles long, and 20 miles wide
, and detectable only to clear-air radar. Instead where the trail is thinnest we get the weakest return, and where it's most spread out we get the strongest return. This is the opposite of what we would expect if something was being sprayed from a plane.
This problem become more apparent if we compare these supposed trails to something IS sprayed from the back on an airplane, and something that is supposed to show up very strongly on radar: chaff: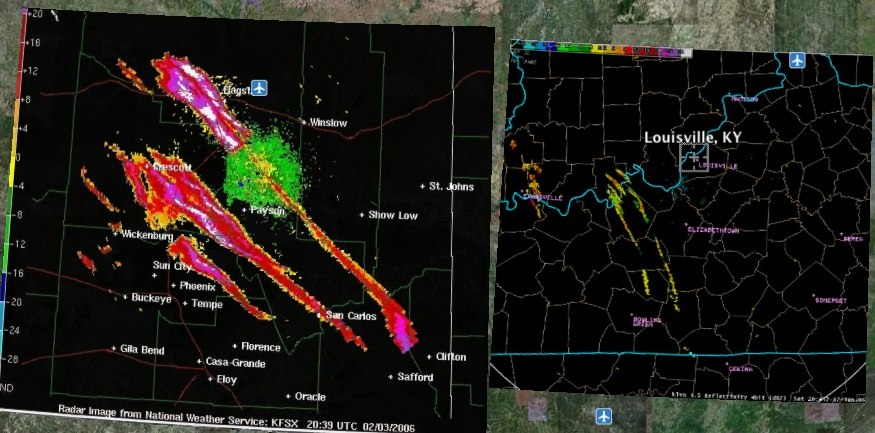 These two images are to the same scale. On the left we have what is claimed to be "chemtrails" - huge 200 mile long by 25 mile wide odd shaped blobs.
On the right we have chaff trails
. No more than a mile and a half wide, and of consistent width. And this is something that is designed to show up on radar.
You'd also expect such dramatic "trails" to correlate with ground observations, or satellite images. But no, again we see nothing. These clear air radar images are actually just showing clear air.
Last edited: