http://www.youtube.com/watch?v=thqhr-27V1o&feature=channel&list=UL
Watch each ring epicenter for developing severe weather .. usually within 48 hours of the pulse .. usually attracting storms to the center of each pulse.


In that video Dutch attributes noturnal clutter on radar to HAARP and predicts that severe weather with hit the ring centers within 48 hours. Yes, let's watch the areas he highlights from 4AM CDT on the 9th of September through 4AM CDT on the 11th of September and see what weather manifests.
I noted in this post:
https://www.metabunk.org/threads/75...s-and-Scalar-Squares-are-Often-From-the-Birds
The fall migration of birds from there northern breeding grounds to southern wintering grounds had begun and that Dutchsinse would likely start to make "forecasts" based on the appearance of "HAARP" rings when the big movement of animals started behind the larger frontal passages. We experienced the first big front of the fall season this past weekend as many people in the eastern 2/3s of the US have surely noticed with and large drop in temperatures. When cold fronts pass in the fall birds of many species from hawks, ducks, and geese to neotropical song birds make mass migration at night on the favorable winds behind the fronts. This results in widespread nocturnal clutter. This occurred on a grand scale overnight between Saturday the 8th and Sunday the 9th.
I've attached below the national mosaic from 12AM CDT on 9 September as well as velocity images from western Kentucky in the middle of the "ring outbreak" to western south Dakota where there is minimal clutter around the radar. In Kentucky as well as at all of the sites where there is widespread clutter on the radar the winds are north. In western south Dakota the wind is west. Loops of the velocity images from individuals confirm that the clutter comprises southbound widely scattered targets which are consistent with migrating birds. Dutch says that each ring center will be hit with severe weather within 48 hours. In actuality the weather is typicaly quite nice for several days after these fall "rings" as high pressure builds in behind the front.
n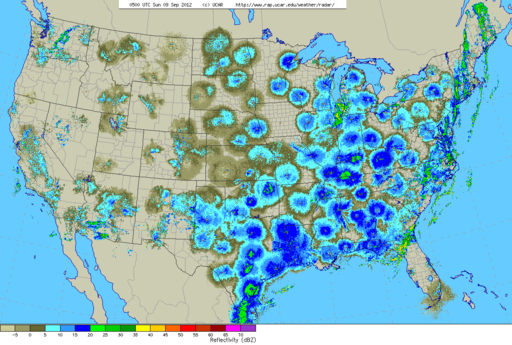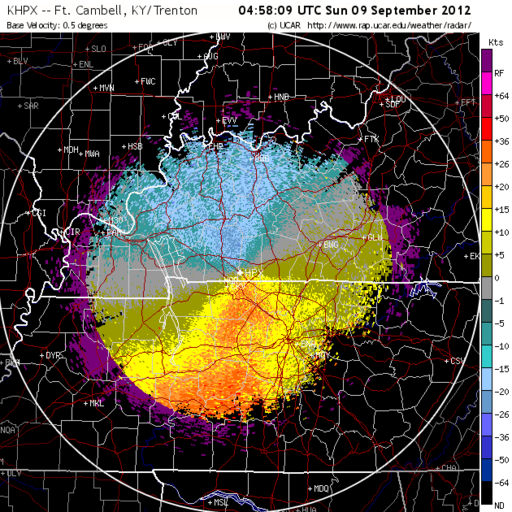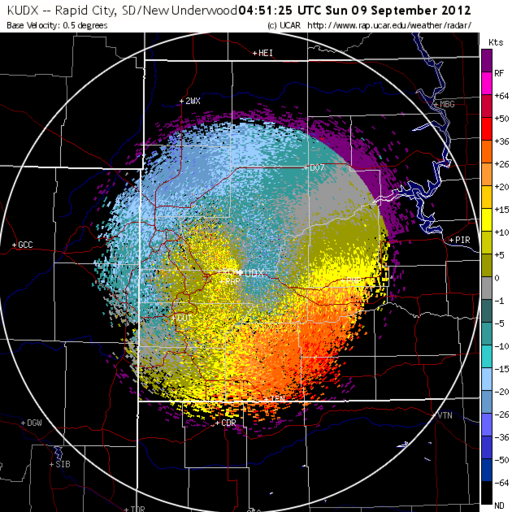 Last edited by a moderator: