This appeared recently on Vinny Eastwood's Facebook site.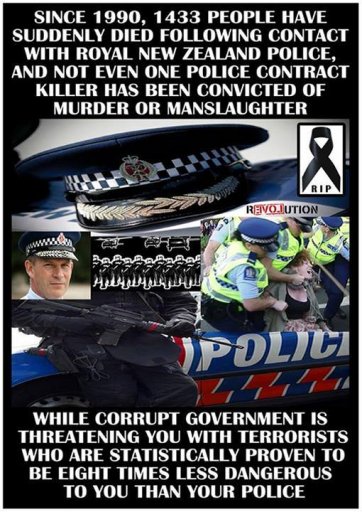 Eastwood is claiming a significant number of New Zealanders have died at the hands of police since
1990,
1,433
to be exact.
Update: The figure of 1,433 deaths relates to deaths in police custody in England and Wales.
There is a legitimate discussion to be had about deaths suffered by people who are in police custody or simply encountering police. That is true here in the United States and around the world.
Unfortunately, many CT believers have hijacked the conversation as a means to demonstrate the dangers of the police state and its lack of public accountability.
I have gained a gist of Eastwood in previous threads.
https://www.metabunk.org/sandy-evan-oswald-weather-warfare.t1609/#post-44321
That said, I was interested in finding out just how many people have died "following contact" with New Zealand police. The term itself is ambiguous, so I made the search relatively broad.
I found a 2012 report issued by the Independent Police Conduct Authority (IPCA). According to the report,
27 civilians died in police custody between 2000 and 2010
.
An additional source of fatalities was car chases. Between 2003 and 2008, 24 people died in this manner.
None of these numbers comes close to Eastwood's claims, so I looked elsewhere.
NGO's like Amnesty International make no mention of police violence in recent reporting.
http://www.amnestyusa.org/research/reports/annual-report-new-zealand-2013
I could not find any records of problems with police behavior in the Amnesty archives or on the Human Rights Watch website.
So, my question to Vinny Eastwood via Facebook and his own website was: where did he get 1433 deaths? He responded today and told me his information came from a "TV host/presenter" in Poland who goes by the name of Paul Marian Heinrich. It was not much of an answer.
Beyond the obvious possibility that Eastwood is simply exaggerating for effect, I would appreciate some help
either finding out the source of those 1,433 claimed deaths or
filling in the gaps between 1990-2000 and after 2010.
Many thanks.
Last edited by a moderator: