Administrator
Staff member
From Public Policy Polling:
http://www.publicpolicypolling.com/main/2013/04/conspiracy-theory-poll-results-.html
http://www.publicpolicypolling.com/pdf/2011/PPP_Release_National_ConspiracyTheories_040213.pdf
Raleigh, N.C. – PPP's latest national poll finds the American public differing along partylines on many conspiracy theories involving issues like global warming and the Iraq War,
although some of the more bizarre ideas merit bipartisan skepticism.
The poll finds 28% of voters believe that a secretive power elite with a globalist agenda is
conspiring to eventually rule the world through an authoritarian world government, or
New World Order. 34% of Republicans and 35% of independents believe in the New
World Order threat compared to just 15% of Democrats.


44% of voters believe the Bush administration intentionally misled the public about
weapons of mass destruction to promote the Iraq War, while 45% disagree. 72% of
Democrats believed the statement while 73% of Republicans did not. 22% of Democrats,
33% of Republicans and 28% of independents believe Saddam Hussein was involved in
the 9/11 terrorist attacks. Just 6% of voters think Osama bin Laden is still alive.

There is an intense partisan divide on whether or not global warming is a hoax: 58% of
Republicans agree that it is a conspiracy, while 77% of Democrats disagree. 20% of
Republicans believe that President Obama is the Anti-Christ, compared to 13% of
independents and 6% of Democrats who agree. 51% of Americans believe there was a
larger conspiracy at work in the JFK assassination, while 25% think Lee Harvey Oswald
acted alone. 29% believe aliens exist and 21% believe a UFO crashed at Roswell in 1947.
"Even crazy conspiracy theories are subject to partisan polarization, especially when
there are political overtones involved," said Dean Debnam, President of Public Policy
Polling. "But most Americans reject the wackier ideas out there about fake moon
landings and shape-shifting lizards."
The full survey is very interesting, and includes the chemtrail theory:

This 5% unfortunately does not tell us much, as it seems to be about the percentage of people who will answer "yes" to just about any question:

The breakdowns are interesting: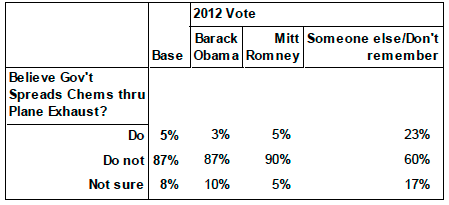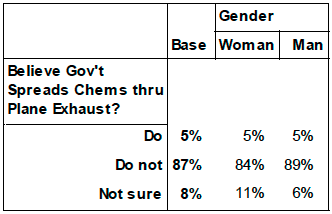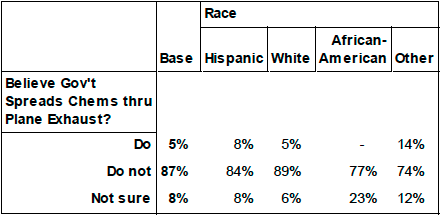 So a chemtrail believer tends to be:
Slightly more Republican than Democrat
Not a "moderate", they tend to identify towards either end of the liberal-conservative spectrum
Both males and females, but females are a bit more likely to be unsure about the topic
Not Black. Perhaps because these types of conspiracy are not popular in Black culture?
Young. The chemtrail demographic is strongly skewed towards those under the age of 30.
Anecdotally, this seems about right. The "hard core" chemtrail believers are typically from the 2% in the middle-aged and older crowd, both male and female. But when there are outreach session - like demonstrations, then the people who listen to them are the younger crowd.
This also misses a quite significant chunk of people under the age of 18, older teenagers, where belief in chemtrails may well be even higher than 17%.
Last edited: