Administrator
Staff member
From Public Policy Polling:
http://www.publicpolicypolling.com/main/2013/04/conspiracy-theory-poll-results-.html
http://www.publicpolicypolling.com/pdf/2011/PPP_Release_National_ConspiracyTheories_040213.pdf
The full survey is very interesting, and includes the chemtrail theory:

This 5% unfortunately does not tell us much, as it seems to be about the percentage of people who will answer "yes" to just about any question:

The breakdowns are interesting: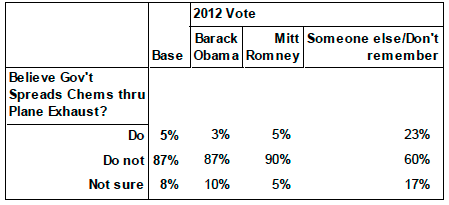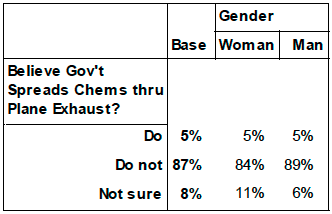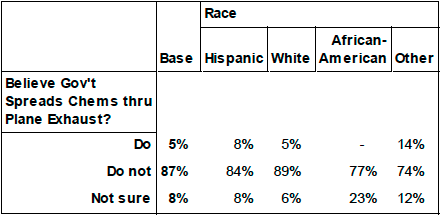 So a chemtrail believer tends to be:
Slightly more Republican than Democrat
Not a "moderate", they tend to identify towards either end of the liberal-conservative spectrum
Both males and females, but females are a bit more likely to be unsure about the topic
Not Black. Perhaps because these types of conspiracy are not popular in Black culture?
Young. The chemtrail demographic is strongly skewed towards those under the age of 30.
Anecdotally, this seems about right. The "hard core" chemtrail believers are typically from the 2% in the middle-aged and older crowd, both male and female. But when there are outreach session - like demonstrations, then the people who listen to them are the younger crowd.
This also misses a quite significant chunk of people under the age of 18, older teenagers, where belief in chemtrails may well be even higher than 17%.
Last edited: