Administrator
Staff member
First, the facts:
https://en.wikipedia.org/wiki/Malheur_incident
The

Malheur incident

is an ongoing event in

eastern Oregon

connected with the

Bundy standoff

. On January 2, 2016, armed members of several

rump militias

took control of the headquarters building at the

United States Fish and Wildlife Service

's

Malheur National Wildlife Refuge

in protest of the pending imprisonment of

Harney County, Oregon

ranchers Dwight and Steve Hammond. The Hammonds have rejected the intervention of militias and disclaimed affiliation with the Bundy family.

...

As of January 2, militia leaders claimed to have 150 armed personnel available at the Malheur National Wildlife Refuge. A reporter personally witnessed "no more than a dozen" potential combatants.

[15]

A separate report by

Oregon Public Broadcasting

put the number of militia at the MNWR at "between six and 12."

[16]

In a statement posted to the Facebook page of the Idaho

3 Percenters

, one of the militias identified by media as involved in the takeover, the group disclaimed involvement claiming that the seizure was "carried out by a small group of persons who chose to carry out this takeover after the rally."

[17]
When I first saw this story, it was on the Russian state-run web site RT, with a headline like "150 Armed Militia Members take over Federal Building". Now to me the term "Federal Building" suggests a large Government office building, and this is confirmed by a Google Image search:
So the idea of 150 armed men taking over such a building in the US would be alarming to say the least. So it was curious that the major media was not covering it. I assumed initially the RT story was about an incident in some less stable country that the American Media was uninterested in. But eventually more stories filtered through my Twitter feed, and I discovered the "Federal Building" was actually a small looking cottage on a National Wildlife Reserve. It was not until the next day that I discovered the number of militia members were less than a dozen, and not the "150" originally suggested.
Protesting by occupying government building is nothing new. But this protest seems worryingly dangerous. The most disturbing aspect of the story so far is a video posted by one the occupying militia, Job Ritzheimer, in which he appears to be saying goodbye to his family, and promising a fight to the death with the federal government.
He also suggests something like a conspiracy against the protestors.

9:05 there is a smear campaign going on out there pushing lies and propaganda saying
9:11 that the Hammonds just want to give up they want to turn themselves in.
9:15 No they don't they don't want to go in they don't want to deal with this
9:18 they've been threatened they're scared they don't want conflict. Stewart Rhodes
9:28 the founder of Oath Keepers saying well they want to turn themselves in so it's
9:36 they have their right to turn themselves in
9:40 By your logic I guess that we shouldn't offer any help to these veterans that
9:48 want to commit suicide just let him suck start their nine mil

Ritzheimer has been in the news earlier in 2015 as "the de facto leader of Arizona's anti-Islam movement". After the Paris attacks he urged Americans to prevent similar attacks by putting a rifle on their backs, and carrying it everywhere, every day. He posted a photo demonstrating his "daily attire"
http://www.phoenixnewtimes.com/news...amic-syrian-refugee-attacks-in-the-us-7831364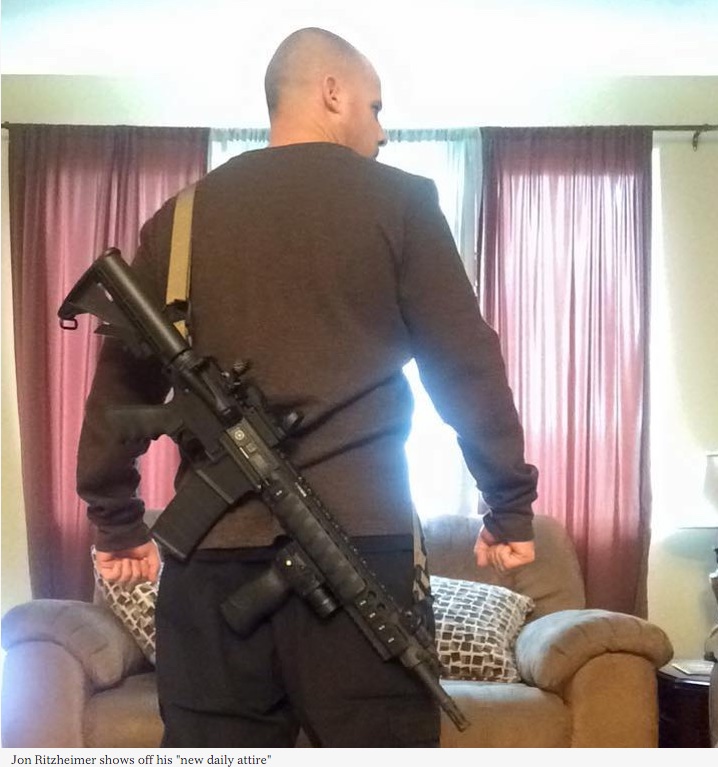 He also organized a "Draw Muhammed" event outside a mosque, a rally to protest the nuclear deal with Iran, a pro-confederate flag rally, and a "freedom of speech" rally.
http://www.pbs.org/newshour/rundown/photos-2/

So we have a group of people who are driven by strongly felt personal ideology. They are libertarians, they love "America", but they hate government. They are very suspicious of muslims. Ritzheimer is an extreme example (and probably
many in his camp will decry him as a bad example
), but he's still a manifestations of the "patriot" movement.
This type of extremism, like most types of extremism, is a fertile ground for bunk. Misleading or downright false memes are everywhere. The suspicion of "officials" leads to belief in various versions of the "false flag" theory of events. Everything is seen as some kind of plot to impose gun control and take aware freedoms.
Is there any role here for debunkers? It's a huge messy complex situation. I feel it's still good to correct bunk where we see it. However, I think it's going to take a bit more than simply correcting anti-government memes and urban legends about Muslims. Unfortunately I really don't know what that is.
Hopefully the protest will end peacefully. But looking at Ritzheimer's journey up to this point it does not look very promising. Whatever happens, bunk will follow.
Last edited: