The claim here is fairly simple:
http://www.truth-out.org/news/item/...magnetic-warfare-training-on-washington-roads
The story cites
It is actually an interesting read, more so because the emails establish the fact that the military had to navigate numerous federal laws and agencies to win approval for training. More importantly, none of this process was secret.
It provided National Environmental Policy Act (NEPA) documentation of its training as required by federal law in its request to the U.S. Forest Service for permits to use public land in Washington state.
Included in their application was approval from the National Telecommunications and Information Administration (NTIA) for the frequencies used in training.
U.S. Forest Service biologists were allowed to review the Navy request before granting the permits.
In the cited emails, the Navy provided a description of the actual radar emitters being used.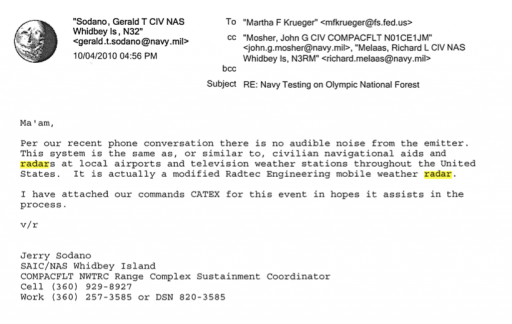 The Navy did provide public notice according to its
Pacific Northwest EW Range Environmental Assessment (EA)
published in September 2014.
Ironically,
Truth-out
provided this very document.
http://www.truth-out.org/news/item/...-national-park-and-forest-in-washington-state
Basically, for the life of me, I cannot see how the original claim of secrecy holds any water whatsoever.