I'm a big lover of irony, so I had to share this...
The following meme popped up on my Facebook (reposted from a Charles Bukowski 'tribute' page) accompanied with a comment from the poster :
"Yea I would fully agree with this. Most of the confident extroverted types in this world are as thick as pig s***, emotionally and mentally lol !!"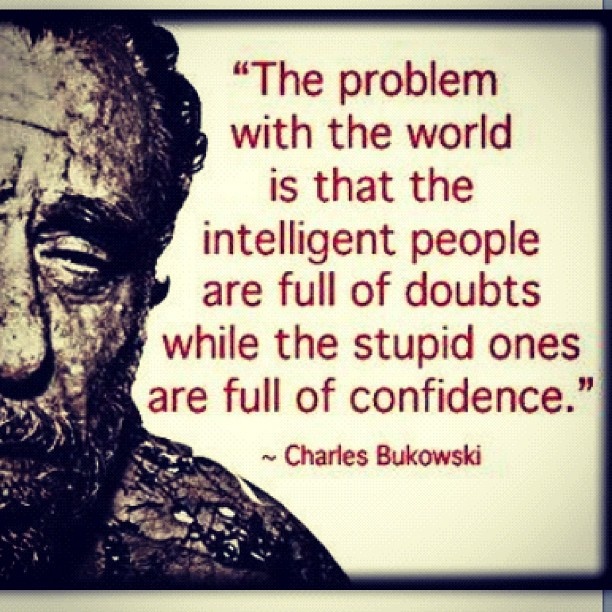 It is a shame however, he didn't doubt the quote and check it out....
The closest approximation of the quote is actually attributed to Bertrand Russell in 1933:

The fundamental cause of the trouble is that in the modern world the stupid are cocksure and the intelligent are full of doubt.– Bertrand Russell, The Triumph of Stupidity from Mortals and Others VolII: Bertrand Russell's American Essays, 1931-1935 (Routledge, 1998), p. 28
EDIT - Or you could go earlier to WB Yeats from his 'Second Coming' poem:
The best lack all conviction, while the worst
Are full of passionate intensity.
The closest Bukowski came to that quote was from an interview in the 80's:
"
But the problem is that bad writers tend to have the self-confidence, while the good ones tend to have self-doubt."

Semantically similar, but over 50yrs after Russell and Yeats.
Its an excellent demonstration from the meme makers and the re-posters; of the Dunning-Kruger Effect.
The

Dunning–Kruger effect

is a

cognitive bias

in which unskilled individuals suffer from

illusory superiority

, mistakenly rating their ability much higher than average. This bias is attributed to a

metacognitive

inability of the unskilled to recognize their mistakes
Sometimes it's difficult to separate Dunning-Kruger from just plain old gullibility; and how can we really distinguish it from the (misnamed)

Barnum Effect (really, the Forer Effect)

?

Sniffing out stupid and humorous, and sometimes malicious, distortions of history, we run into people under the spell of the effect way too often.
https://timpanogos.wordpress.com/dunning-kruger-effect/
I didn't have the heart to tell him.... [removed off topic comment that may lead to off topic discussion]
Now, am I experiencing Dunning-Kruger by posting this....?
Last edited: