Can anyone provide me with a list of the following:
Fuel types currently in use: Jet A, Jet B, JP-8, etc
A full list of additives currently in those fuels (they have to be approved by someone right?)
A list of other potential chemicals that have the possibility of ending up burnt in the exhaust (have read about lubricants ending up burnt)
In 1989, the Propulsion Directorate began evaluating jet fuel additives to reduce coking and maintenance costs in aircraft engines and fuel systems. In 1994, the directorate selected an additive, designated SPECxAID 8Q462, to test on F-16s with Pratt & Whitney F100-PW-200 engines. The resultant additized fuel, designated JP-8+100, raises the fuel's thermal stability up to 100∞ F hotter without increasing its propensity to form coke. The two-year test program using JP-8+100 resulted in a significant reduction in coke-related maintenance. To date, thousands of Air Force aircraft, as well as numerous aircraft of allied nations, successfully use JP-8+100. The Federal Aviation Administration (FAA) recently approved the use of the Betz Dearborn SPEC×AID 8Q462 fuel additive and its commercial equivalents for all Pratt & Whitney commercial aircraft turbine engines.
Source:
Operation Clarity
And:
AMRL Evaluation of the JP-8+100 Jet Fuel Thermal Stability Additive
Image of SPEC×AID 8Q462 fuel additive MSDS with Trade Secret ingredient: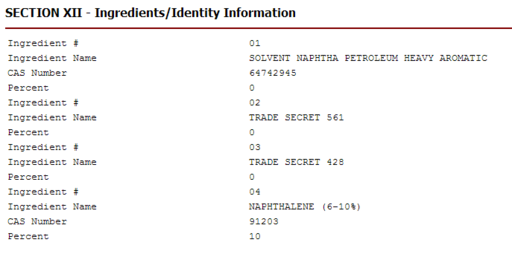 Is this additive still in use?
Also I have heard about DINNSA:
King Industries committed two sponsoring four chemicals as part of the U.S. Environmental Protection Agency's (EPA) High Production Volume (HPV) Challenge Program. These chemicals include diisononylnaphthalene (CAS No. 63512-64-1); dinonylnaphthalene sulfonic acid (CAS No. 25322-17-2); dinonylnaphthalene sulfonic acid, calcium salt (CAS. 57855-77-3); dinonylnaphthalene and sulfonic acid , barium salt (CAS. 25619-56-1). As part of King Industries' commitment, Exponent has assembled available data and prepared a test plan to Develop additional screening level data on human health effects, environmental fate and effects, and physicochemical properties of the dinonylnaphthalene category.
http://en.wikipedia.org/wiki/Dinonylnaphthylsulfonic_acid
I am trying to figure out What in the World are they Adding... but am having trouble finding that out. Figured I would ask the experts.
Btw someone sent me the FunVax DoD fake vid, and thanks to your debunk on this forum, I gladly ignored the hell out of that video. Thanks =)