Can anyone provide me with a list of the following:
Fuel types currently in use: Jet A, Jet B, JP-8, etc
A full list of additives currently in those fuels (they have to be approved by someone right?)
A list of other potential chemicals that have the possibility of ending up burnt in the exhaust (have read about lubricants ending up burnt)
Source:
Operation Clarity
And:
AMRL Evaluation of the JP-8+100 Jet Fuel Thermal Stability Additive
Image of SPEC×AID 8Q462 fuel additive MSDS with Trade Secret ingredient: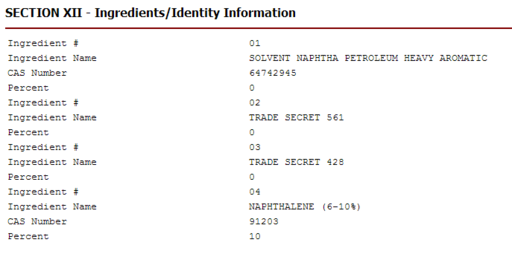 Is this additive still in use?
Also I have heard about DINNSA:
http://en.wikipedia.org/wiki/Dinonylnaphthylsulfonic_acid
I am trying to figure out What in the World are they Adding... but am having trouble finding that out. Figured I would ask the experts.
Btw someone sent me the FunVax DoD fake vid, and thanks to your debunk on this forum, I gladly ignored the hell out of that video. Thanks =)