What do you guys know about this guy/company?
CEO Col. David Kutchinski
Sciblue Inc.
and US Air force mention
here
World Peace Technologies Inc.
Legacy Technology Holdings, Inc.
and
here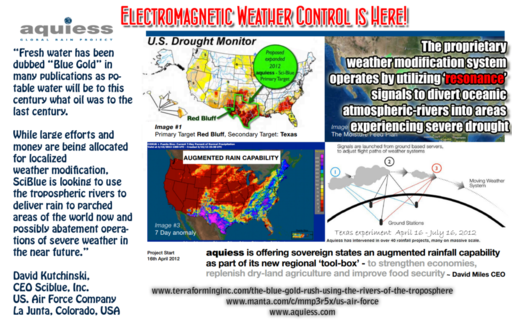 image source:
http://www.aquiess.com/Introduction - Aquiess - 2012.pdf
[h=1]Documents Reveal Air Force Uses Advanced Weather Modification to Alter Climate[/h]
http://chemtrailsplanet.net/2013/03/14/us-air-force/
2) Targeted Weather, Inc.

(Targeted Weather) The technology employed by Targeted Weather makes use of algorithms to determine the development and location of severe weather combined with the use of technology to attempt to prevent the severe weather from forming.
[h=1]
The Blue Gold Rush | Using the Rivers of the Troposphere
[/h]
http://terraforminginc.com/the-blue-gold-rush-using-the-rivers-of-the-troposphere/
http://web.archive.org/web/20090116070438/http://www.legacytechholding.com/
Someone explain all this please.