http://www.cbc.ca/documentaries/doczone/video.html?ID=1664956266
Produced by the Canadian Broadcasting Corporation, Playing God with Planet Earth talks about the technology, motivation and consequences of geoengineering.
I found the second half interesting... they discus what would motivate a nation to mitigate the climate. They surmise that wealthier nations could more easily find technological solutions to deal with the consequences of climate change and so postpone the need to engage in risky geoengineering schemes. OTOH, poorer countries, in a desperate attempt to fight rising seas or huge storms, may be more easily tempted to employ cheap and poorly understood geoenginering solutions. Solutions that might only transfer the problem and result in devastating consequences.
They use an example from Senegal to illustrate the point. In an attempt to control flooding, authorities decided to cut a raw canal through a sand bar, allowing a river's flood waters to drain directly into the ocean. Unfortunately, the low tech and poorly studied solution didn't reinforce the banks of the simple canal nor did it allow for controlling the rate of drainage. As a consequence, the canal eroded the sand bar and the opening quickly grew from a few metres wide to several kilometres. The open ocean battered the coast and devastated the small village of Doun Baba Dieye ("Doon baba dee" - I love that name).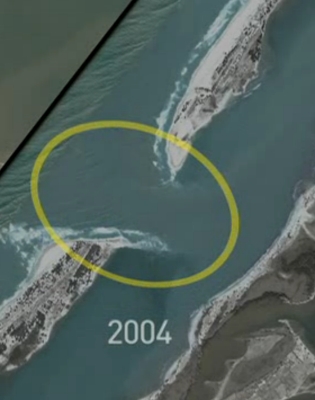 The documentary touches many aspects of the issue but it reinforces the point that geoengineering is not a cure for what ails the planet, and it's more than likely not even a good idea.