Montanans for Medical Freedom recently posted this on Facebook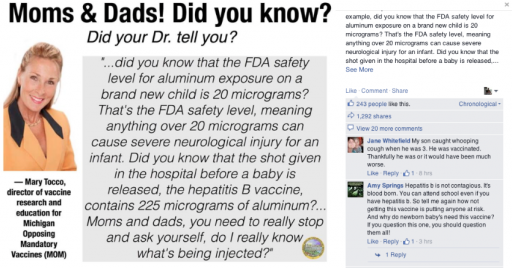 MOM's website is here.
http://www.momvaccines.org/research.html
I wanted to examine the claim regarding the effect of 20 micrograms of aluminum on a "brand new child." That term struck me as vague from the start.
I found two sources that might be the point of origin for the aluminum dosage:
This first is Title 21, Part 201 of the U.S. Code which addresses labeling
(a) The aluminum content of large volume parenteral (LVP) drug products used in total parenteral nutrition (TPN) therapy must not exceed 25 micrograms per liter ([micro]g/L).
http://www.accessdata.fda.gov/scripts/cdrh/cfdocs/cfcfr/CFRSearch.cfm?fr=201.323
The second source that may apply is Department of Health and Human Services, Food and Drug Administration, Document NDA 19-626/S-019, Federal Food, Drug and Cosmetic Act for Dextrose Injections.
"Aluminum may reach toxic levels with prolonged parenteral administration if kidney function is impaired . . . Research indicates that patients with impaired kidney function, including premature neonates [babies], who received parenteral levels of aluminum at greater than 4 to 5 micrograms per kilogram of body weight per day, accumulate aluminum at levels associated with central nervous system and bone toxicity. Tissue loading may occur at even lower rates of administration."
For a tiny newborn,
this toxic dose would be 10 to 20 micrograms
, and for an adult it would be about 350 micrograms
The most important term in both of these documents is "parenteral nutrition," which I found out means being fed by intravenous solution (IV).
Relevant literature on parenteral nutrition notes that the patient receiving it does not metabolize IV fluid the same way as normal eating or drinking.
A good discussion of parenteral nutrition may be found here.
http://patients.gi.org/topics/enteral-and-parenteral-nutrition/
The "brand new" children that MOM and Mary Tocco mention are, in actuality, "premature neonates," or premature babies. These babies lack a fully formed digestive system and cannot metabolize nutrients at the same rate as healthy children. It is a problem compounded when they are fed by intravenous solution.
In other words, MOM cherry picked a very specific standard for aluminum that applies to premature babies receiving intravenous feeding.
Aluminum levels that apply to healthy children were well-covered in
Post #52
.
Last edited by a moderator: